Rajapaksa trying to erase Tamil in Sri Lanka: Karunanidhi
Posted by Editor on February 8, 2013 - 6:23 pm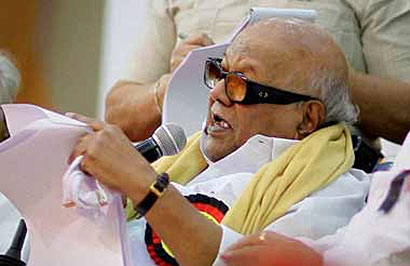 DMK president Friday said Sri Lankan President Mahindra Rajapaksa was not only trying to obliterate Tamils in the island nation but also their culture, tradition and the Tamil language itself.
Leading a massive protest held by Tamil Eelam Supporters Organisation (TESO) against the president's India visit, Karunanidhi said: "Rajapaksa is trying to erase not only the Tamils in Sri Lanka but also the Tamil language."
Karunanidhi said the Sri Lankan government was changing the names of villages with Tamil names to that of Sinhalese.
He said the protest was being held to teach Rajapaksa a "lesson".
According to Karunanidhi, Tamils in Sri Lanka would have attained their goal of Tamil Eelam long back had they made their demand in one voice with unity. Thousands of cadres belonging to DMK, VCK and other Tamil outfits and their leaders participated in the protest wearing black shirts.
At a meeting here Feb 4, Sri Lanka's independence day, TESO decided to protest against Rajapaksa's visit. It was also resolved that DMK MPs would meet the envoys of 41 countries to impress upon them the plight of Tamils in the island nation.
Members of various Tamil outfits protested outside the Sri Lankan consulate in Chennai. Around 30 members of VCK party were taken into custody near the Tamil Nadu-Andhra Pradesh border for holding protests.
In Hosur in Karnataka, members of various Tamil outfits were taken into custody for protesting on the railway tracks. Lawyers in some districts like Villupuram, Dindugul and Sivaganga in Tamil Nadu boycotted the courts opposing Rajapaksa's visit and burnt his effigies. Protests were also held in the temple town of Tirupati, where prohibitory orders were imposed, and in the national capital New Delhi.
Rajapaksa, who will be here on a "personal visit", will visit Bodh Gaya in Bihar and Tirupati in Andhra Pradesh before flying home Saturday. IANS
Latest Headlines in Sri Lanka