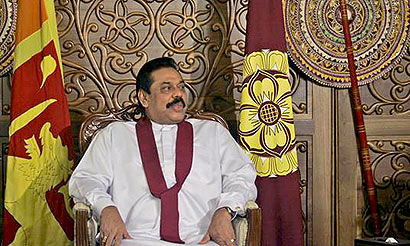 Muslims in Sri Lanka celebrate Eid al-Fitr (Ramazan) today.
At the end of Ramadan, Muslims throughout the world observe a joyous three-day celebration called Eid al-Fitr (the Festival of Fast-Breaking). Eid al-Fitr, which is on the first day of the Islamic month of Shawwal, marks the end of the month-long fast of Ramadan.
President Mahinda Rajapaksa wished all followers of Islam in the the country a "happy Eid al-Fitr." In a message to all Muslims in the country,
The full text of the message:
"I am pleased to send this message of greetings on the occasion of the Ei-Ul-Fitr festival celebrated today by the devotees of Islam,
"This festival is of great significance as it marks the end of the holy month of fasting and religious observances by those of the Islamic faith. They join their brothers in the faith throughout the world today, having observed the teachings of the holy Quran and the Holy Muhammed throughout the month of Ramazan."
" Muslims in Sri Lanka will be glad for the opportunity they have had to carry out their religious observances without hindrance in the peace that now prevails in our country. This is fully in keeping with the tradition of tolerance and understanding among different religions that has been an important aspect of our culture and civilization."
""I wish all followers of Islam in Sri Lanka a happy Eid-Ul-Fitr.
"Eid Mubarak!