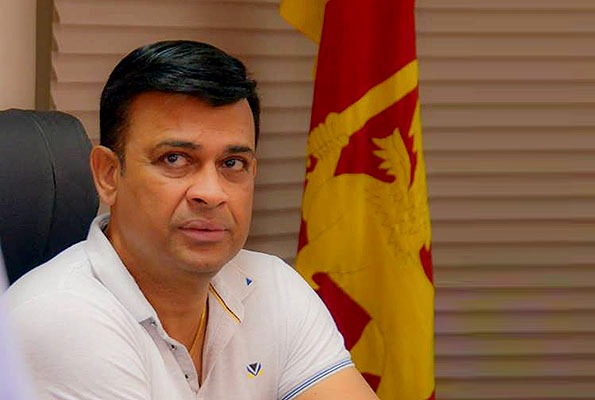 Social Empowerment and Welfare Deputy Minister Ranjan Ramanayake and the Divulapitiya Divisional Secretary have been summoned to the Presidential Secretariat today, to sort out an issue regarding illegal sand mining in the area. Deputy Minister Ramanayake told the media in Colombo yesterday that he too was asked by the President to attend the meeting to sort out the issue which was given wide publicity in the media.
The electronic media carried recent footage showing the Deputy Minister using strong words against the Divulapitiya DS.
Commenting on his intervention to stop illegal soil mining in Akaragama during which he had a heated argument with the Divisional Secretary, Ramanayake said that he would not apologize until soil mining and other environmentally harmful activities in the area are stopped.
The Deputy Minister charged that UPFA MP Indika Anuruddha, his father, bother and cousin bother are allegedly involved in illegal sand mining in the area.
"The Divisional Secretary, being a public official,should have taken prompt action rather than asking me to come up with a written complaint. She is not suited to be in the public service if she cannot tolerate criticisms," he said.
The press briefing was organised in the wake of a protest organised by the Sri Lanka Administrative Service Association to mark its protest on the above incident.
Deputy Minister Ranjan Ramanayake during the interaction with the press also charged that Industry and Commerce Minister Rishad Bathiudeen should be held responsible for the alleged deforestation that took place near Wilpattu. Ramanayake said that he went on an inspection tour in Wilpattu on January 23 and he was convinced that there had been severe damage to forest cover.
"The bitter truth is that the Sinhala community had been served with a small spoon and Muslim community had been served with a larger spoon in this area. The minister had helped a few Sinhala families in 'Wijayagama' in the area. All ethnic groups and religions should be treated equal and this should be same in Wilpattu as well" he said.
He also charged that there had been deforestation in about 26,000 acres in Sinharaja, but did not provide any detail on this claim stating he was gathering information.
Responding to a question by a journalist on the Treasury Bonds allegations, the Deputy Minister said that he was in a clear stand that the Perpetual Treasuries allegedly had earned undue profits from the bonds scam. "I am not afraid to say this even though I could be removed from the party tomorrow. I was not part and parcel with the foot note faction" he commented.
(Source: Daily News – Disna Mudalige)