President thanks China for continuous assistance to Sri Lanka
Posted by Editor on October 21, 2015 - 10:31 am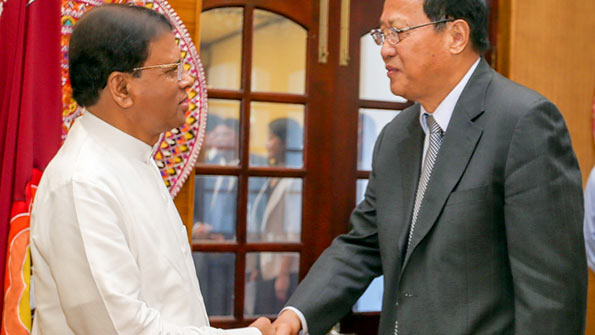 President Maithripala Sirisena expressed deep appreciation to China for providing continuous assistance for development of Sri Lanka.
He made these remarks when he met with a group of senior delegation of the Communist Party of China, headed by the Party's Deputy Leader and Mr Zhang Baowen, Vice Chairman of the Standing Committee of the National People's Congress of China, at the President's Official Residence in Colombo yesterday (20).
"When we travel across the Colombo as well as around the country we can see many development projects funded by the government of China", the President said, adding that he expects the continuous assistance of the government of China to the Sri Lankan government in the future too in achieving the development goals of the country.
Sri Lanka expects the fullest cooperation from China to overcome the challenge of poverty in the country, President Sirisena said.
The two leaders specially discussed about the long standing relationship between Sri Lanka and China as well as the relationship between the Sri Lanka Freedom Party (SLFP) and the Communist Party of China. The President recalled that every time when SLFP forms a government the relationship between the government and the Communist Party was strengthened.
The President thanked them for the continuous assistance provided for Sri Lanka by China in international fora.
The President also expressed his appreciation over the service rendered by the Chinese Ambassador in Sri Lanka to strengthen the ties between the two countries.
Mr.Zhang Baowen presented a memento to the President on this occasion.
(President's Media)
Latest Headlines in Sri Lanka