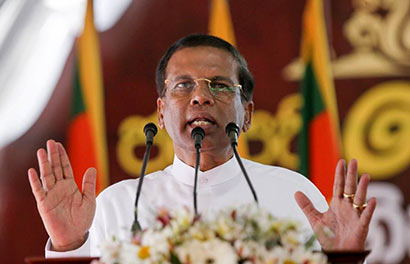 President Maithripala Sirisena expressed his dismay at the delay in taking legal action against those who embezzled public money. Speaking at a rally held in Aralaganwila yesterday, he added that he will use his powers and appoint a special presidential commission to investigate alleged corruption.
He added that, as promised during the election campaign, he will take legal action against those who embezzled money from the people.
"During the election we spoke quite a bit about corruption. I am also wondering why action is not being taken against the corrupt individuals. The new government will take action against the corrupt regardless of who they are," he said. "We will appoint a committee to investigate the corruption, which occurred and I would like to say that this will be appointed to punish the powerful corrupt."
The President added that the people in the country are waiting to punish the corrupt and that swift action should be taken against such individuals.
(Ceylon Today)