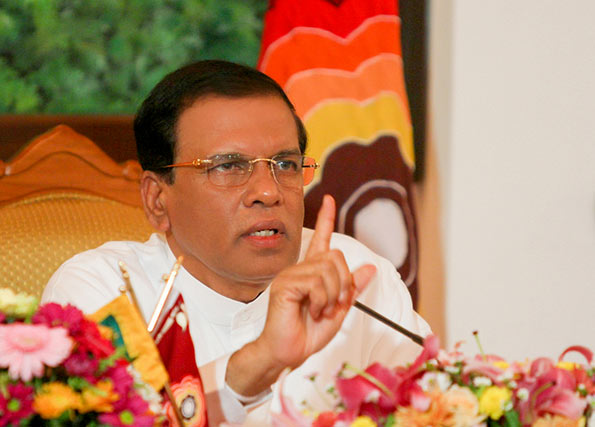 President Maithripala Sirisena assured yesterday that he would brief the Cabinet in one week over the government's course of action on the Avant Garde private security firm. The President addressing a special meeting held on the Avant Garde controversy last morning, said he would arrive at a final decision on the matter after discussions with the Prime Minister.
As the meeting started, the President informed Cabinet members that he received the letter of resignation of Law and Order Minister Tilak Marapana.
It was earlier speculated that a group of ministers were planning to demand Marapana's resignation at the special Cabinet meeting on the Avant Garde issue.
Speaking at the meeting, President Sirisena said it was important to understand that the "opposition" was supportive of the Avant Garde company as it had close links with the top echelons of the previous regime.
"This is a matter among members of the government. So, this should be sorted out within the government," the President said.
Justice Minister Wijayadasa Rajapakshe defending his position over the Avant Garde matter, said his stance on the matter was based on the Attorney General's opinion.
"The Attorney General cannot prosecute people based on statements made by politicians. It should be based on evidence. If the evidence suggests that the company is not involved in any illegal business, the Attorney General cannot do anything about it. I am not trying to justify the conduct the company. I am explaining the present state of affairs on the matter," the Justice Minister said.
At this point, Minister Rajitha Senaratne, quoting Suhada Gamlath, Additional Solicitor General, said a powerful politician of the government had influenced the investigations into the Avant Garde security firm.
Responding to this claim, Minister Rajapakshe requested Senaratne to summon the official for a meeting and ask him to disclose the names of the politicians who tried to influence the investigations.
Minister Patali Champika Ranawaka, voicing his opinion, said the conduct of the owner of the private security firm should be investigated as his name had been mentioned in connection with various allegations.
Commenting on Avant Garde's operations in Nigeria, Minister Ranawaka said the company could pose a severe threat to the country's national security.
He stressed the government should conduct a full-scale and transparent investigation into the activities of the private security firm and its owners, without any political interference.
The Cabinet also decided to hold another discussion with all stakeholders of the Avant Garde investigation, including members of the security forces, to find a solution to the present issue.
(Daily News)