President to open Kotmale tunnel; Tunnel open for public viewing from Nov 5-7:
Posted by Editor on November 3, 2010 - 5:44 am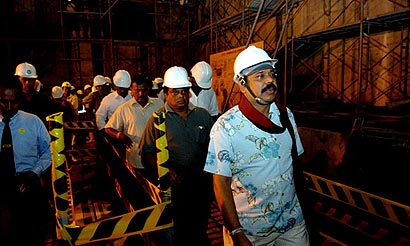 President Mahinda Rajapaksa will open the Upper Kotmale tunnel which is considered the longest tunnel in the country tomorrow. This project which was delayed for over a decade due to various social and environmental issues commenced on the directive of President Mahinda Rajapaksa just a few months after assuming duties in 2005.
This tunnel which is 12.9 Km in length and has a diameter of 5.2 metres is to carry water from the Kotmale stream to the power station.
This project epitomizes the Government's commitment to development at a time when it was fighting the most ruthless terrorist outfit in the world. The tunnel is open for public viewing from November 05-07.
Over 150 MW of electricity will be added to the National Grid a year by this project which is funded by the Government of Japan.
The construction of the project is done in five phases and nearly 74 per cent of the construction of the first phase has been completed while, 76 percent of the second phase, 79 percent of the third phase 57 percent of the fourth and 54 percent of the fifth phase are now completed. The Government of Japan provided a loan of Japanese Yen 33,265 million while the Ceylon Electricity Board spends Rs 87,000 million for the project which is to be completed by end of next year.
The demand for electricity has been growing at an annual rate of 7-8 percent and is expected to increase with the liberation of entire North and the East and dividends of development being delivered to the rural areas.
The growth in electricity demand has closely followed the growth in the economy in recent years, emphasizing the need for a reliable and uninterrupted supply of electricity provided at a reasonable price if the current trend of economic growth is to continue.
This is the run of the river hydro power project which was conceived with the preparation of a master plan for hydroelectric development in the Mahaweli Basin in 1968. The concept was further studied in 1985-1987 when the Japanese Government funded a feasibility study to examine hydropower options in the upper part of the Kotmale Oya.
A dam is located close to the Talawakelle town with a height of 35.5m and a crest length of 180m and an upstream surge tank 12m in diameter and 98m high with a restricted opening located on the crest of the power house.
An underground powerhouse is located at Niyamgamdora to house two units of 77,000 kW turbines, two vertical axis three phase 88,000 kVA generators, two 3-phase, transformers and a 220kV Gas Insulator Switchgear (GIS) substation.
Daily News
Latest Headlines in Sri Lanka