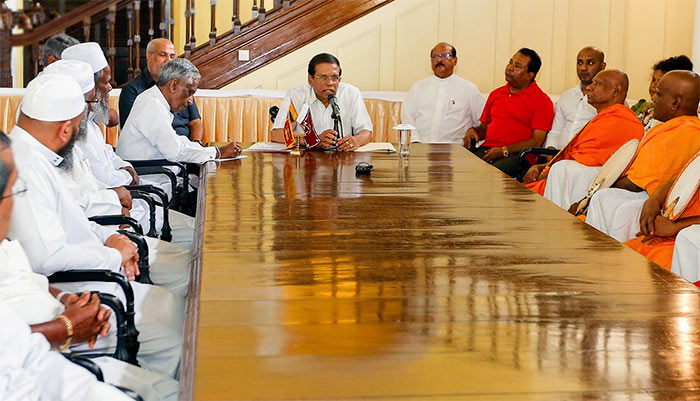 President Maithripala Sirisena held a special meeting at President's House in Kandy to discuss the current situation in the Kandy district.
Mahasangha led by Anunayaka Theros of Malwattha and Asgiriya chapters, and Islamic Moulavies and other religious leaders, ministers, government officers, and chiefs of security sections gathered in this discussion, the President's Media Division said.
President Sirisena discussed with religious leaders about the situation that has occurred suddenly and the leadership they can provide to bring it under control and to avoid spreading of the misunderstandings among people.
The religious leaders pointed out that exaggeration of minor incidents through various social media platforms is one of the main reasons for the spread of this situation.
President Sirisena stressed the importance of communicating precise information to the public and instructed officers to inform the public about the true circumstances of the situation through religious leaders.
President Sirisena pointed out the importance of taking maximum efforts by all religious leaders to create an environment to prevent the recurrence of this kind of incidents in the society while building the peace and reconciliation among all the communities in the country.
The President instructed the Police and the Tri-Forces to take necessary steps to ensure the security of the people in the area and further stated to take every possible step to ensure peace in the relevant areas.
The President specially requested the religious leaders to, apart from the steps taking by the security forces to ensure the security of the people in the area, take the leadership in the process of building peace and harmony among the different communities in the respective areas.
The Maha Sangha including Most Ven. Niyangoda Sri Vijithasiri Anunayake Maha Thero of Malwatta Chapter, Ven. Dibulkumbure  Vimaladhamma Anunayake Thero, Most Ven. Wedaruwe Upali Anunayaka Thero of the Asgiri Chapter, Ven. Narampanawe Ananda, Ven. Elle Gunawansa Thero, Ven.  Dr. Medagoda Abayathissa Thero, Ven. Prof. Iduragare Dhammanandha Thero, the Moulavies including the  Kandy Chief Moulavi Fazlur Rehman, Rev. Fr. Ivan Jayasundara ,the Parish Priest, St. Anthony's Cathedral, Kandy, the trustee of the Shri Selva Vinayagar temple in Kandy,  Krishanmoorthy Govindasami, Ministers and MPs, Secretary to the President Austin Fernando, public servants and heads of security forces participated in this meeting.
(President's Media)