Stern action against saboteurs – PM
Posted by Editor on March 8, 2018 - 8:25 am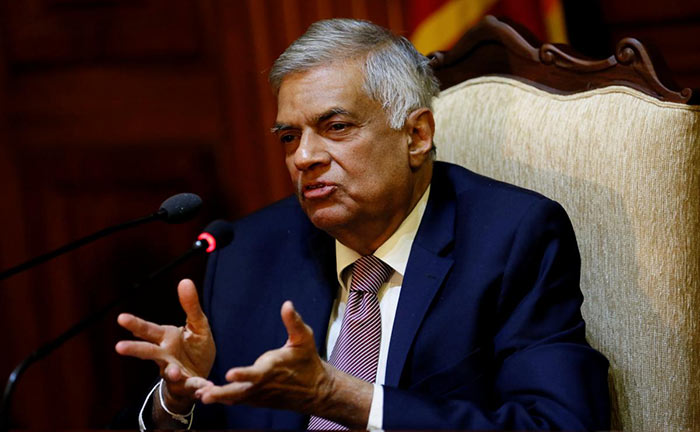 Prime Minister Ranil Wickremesinghe delivering a special statement on the situation in Kandy yesterday said the Security Forces Chiefs and the Police have been instructed to take prompt action against acts of sabotage and be prepared to control any kind of unrest.
He said that Security Forces Commander in the Central Province, Major General Rukman Dias has been appointed to coordinate security related activities between the Police and the Security Forces.
Premier Wickremesinghe further said that the Tri Forces, the Special Task Force have been deployed in the Kandy district in addition to the Police in order to ensure that the normal life of the community is maintained without any hindrance and that law and order is maintained.
He also said that additional Security Forces personnel have been dispatched to the area. While noting that rumours were being spread that religious leaders have been harmed, the Premier said that there was no truth to such reports.
Giving details about some violent acts which took place yesterday, Prime Minister Wickremesinghe said several shops in the Katugastota area had been set on fire.
He said that a hand grenade in the possession of a person who was among a group who had been acting violently had exploded. He said these incidents were being investigated by the Police.
"In the other areas of the Kandy district, law and order and peace prevailed," the Premier explained.
The Prime Minister went on to say that after considering the prevailing situation,a curfew had been imposed in the Kandy district under Emergency regulations since 4.00 pm yesterday.
The Premier said that temporary restrictions have been placed with regards to the use of social media as social media networks are being used by some elements to instigate violence by spreading false stories in order to mislead the public and spread hatred.
Premier Wickremesinghe also requested the public to act peacefully as a state of Emergency has been declared in the country and curfew is in force in the Kandy District.
He also requested the public to give maximum support to maintain peace law and order in their respective areas.
The Premier further said that a peaceful atmosphere prevailed in the rest of the country.
He urged the public not to be misled by false rumours and act responsibly.
Prime Minister Wickremesinghe said he requests the people of the Sinhala, Tamil, Muslim and other communities to extend their fullest support to the endeavours to control the current unrest and create a peaceful environment.
(Source: Daily News)
Latest Headlines in Sri Lanka