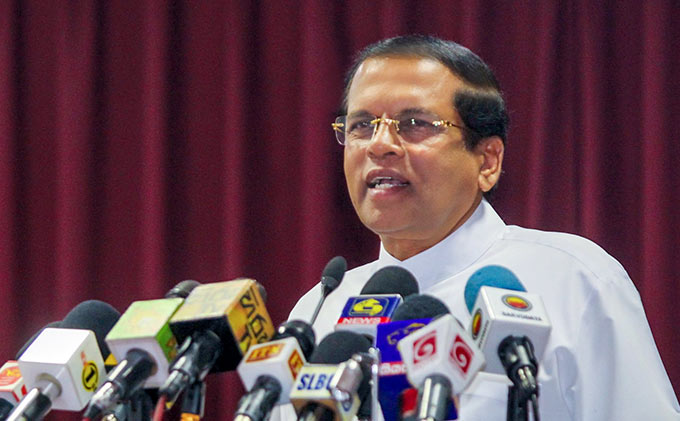 President Maithripala Sirisena said as we are a proud nation with an ancient history, the government is duty bound to protect and safeguard our cultural heritage and bequeath it to the future generations, President Maithripala Sirisena said.
The President was addressing the gathering at a Pinkama held at the Unagala Wehera Raja Maha Viharaya in Hingurakgoda, Polonnarwua to mark the unveiling of the Pinnacle of a newly built Cetiya on June 24. After the unveiling ceremony, the President switched on the Cetiya illuminations and offered the first Mal Pahan Pooja at the Cetiya.
"The recreation of the Unagala Wehera in Polonnaruwa in a manner suitable for the veneration of Buddhists throughout the world was launched in 2016 under the guidance of President Maithripala Sirisena," a press release by the Presidents Media unit said.
The Unagala Wehera restoration work is a leading project of the 'Pibidemu Polonnaruwa' District Development programme implemented on a concept of President Mahitirpala Sirisena.
"It's objective is to conserve all sites with archaeological value and places of religious worship belonging to all religions found throughout the Polonnaruwa district and implement development activities to fulfil the basic needs of such places of worship," the release added.
The Unagala Wehera could be described as a major place of worship with Buddhist and Hindu artifacts belonging to Polonnaruwa. Among those who attended the ceremony were Ven. Dr. Niyangoda Vijithasiri Anunayake Thera of the Malwatte Chapter, Somawathi Raja Maha Vidharadhipathi and Malwattee Chapter Acting Lekakadhikari Ven. Pahamune Sri Sumangala Thera, Ven. Udugama Dharmananda Chief Adikarana Sanghanayaka Thera of the Northern, North Central and Eastern Provinces, Unagalawehera Rajamaha Viharadhipathi Ven. Giritale Gnanissara Adhikaran Sanghanayake Thera of Thamnkaduwa and several Ministers and Parliamentarians.
(Source: Daily News)