President welcomes constructive criticism
Posted by Editor on July 12, 2011 - 8:44 am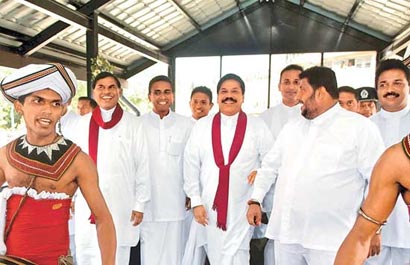 President Mahinda Rajapaksa said he would happily welcome all criticism aimed at exposing any lapses of the government in its objective to fulfil the people's aspirations.
Stressing the harm that could be caused to the country's development effort if there are conflicts among each other, the President said although pointing out the government's shortcomings was welcome, this should be done with a genuine intent and not with a spiteful motive.
The President was speaking after opening the new Galle bus stand, replacing the one that was destroyed by the tsunami, built at a cost of Rs 42 million out of the provisions of the Economic Development Ministry.
The new bus stand is part of a two storey complex housing shops, a rest room and eatery and also includes a computerized timetable system.
The President also inspected the new bus stand and opened the new Sathosa outlet within the complex and the computerized timetable system.
He said he would at no time take offence at criticism meant to steer the government in the right direction.
President Rajapaksa noted that people voted him to power with great expectations and he would fulfil this expectation by serving all without considering party politics, ethnic or religious differences.
"There is no way that we can turn back from the chosen path but move ahead with the country's progress in mind," he stressed.
He recalled that the South in the past always received step motherly treatment but today not only the south but the whole country was witnessing development on an equal level.
Ministers Basil Rajapaksa, Jhonston Fernando, Gunaratne Weerakoon, Piyasena Gamage, Deputy Speaker Chandima Weerakkody, Southern Province Governor Kumari Balasuriya, Chief Minister Shan Wijayalal de Silva MPs Nishantha Muthuhettigama and Ramesh Pathirana were also present.
Source: Daily News
Latest Headlines in Sri Lanka