President will be sworn in for his second term on Nov 19 in Colombo
Posted by Editor on October 11, 2010 - 9:31 am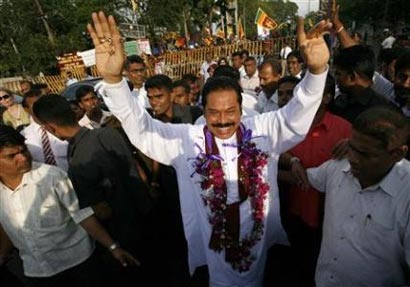 President Mahinda Rajapaksa will be sworn in for his second term as the President of the Democratic Socialist Republic of Sri Lanka on November 19, 2010 in Colombo –. His first term of office began in 2005 for a six year term was confined to five years following his decision to call for his re- election after completing 4 years in office by virtue of the powers vested in him under the COnstitution.
The 1978 Constitution paves the way for a President to be in office only for two terms. But the 18th Amendment brought in last month removed the two term limits and a President can now be in office any number of years provided he or she seeks the mandate from the people at the end of each term
The Director General of Government Information Professor Ariyarathna Athugala said the Information Dept will have a grand photographic exhibition called "Info 2010" depicting the success story achieved under the stewardship of President Mahinda Rajapaksa since 2005. This grand scale National exhibition to coincide with the beginning of President's second term will be held in Colombo.
"Elaborate arrangements are being made to have different stalls for each of the major sectors of the economy. Therefore this will be an ideal opportunity for the people of this country to arrive at informed decision on the development made in the country" said Professor Ariyarathna Athugala.
Gov. News
Latest Headlines in Sri Lanka