White flag issue: Fonseka never denied my story – Fredrica Jansz
Posted by Editor on October 12, 2010 - 7:41 am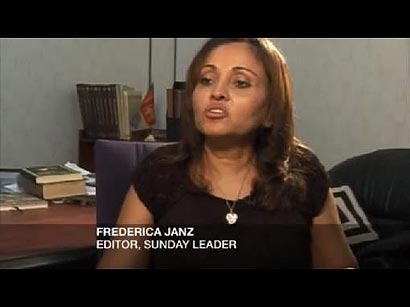 Sunday Leader Chief Editor Fredrica Jansz giving evidence before the Trial-at-Bar consisting of three High Court Judges, examined by Deputy Solicitor General Wasantha Navaratne Bandara yesterday said that Sarath Fonseka never denied her lead story in the Sunday Leader of December 12, 2009 about the white flag issue.
Sarath Fonseka on a subsequent date after having lengthy discussions with several of his friends including Mangala Samaraweera and several others asked her to carry a clarification in the Sunday Leader on December 20, 2009 stating that LTTE leaders were killed not while they were carrying white flags but during the war.
The three Judges are Colombo High Court Judge Deepali Wijesundera (President), Colombo High Court Judge W T M B P Warawewa and Colombo High Court Judge M Z Razeen. Examined at length by Deputy Solicitor General Navaratna Bandara, Jansz said that she could not contact Sarath Fonseka after publishing the clarification in the newspapers.
But the JVPers carried a massive campaign against her and attempted to tarnish her character.
Jansz said that in respect of her article about the white flag issue over 1,000 people had commented about the story and the BBC also contacted her. Later Sarath Fonseka made a public announcement about the issue.
She did not attend any press conference about the white flag issue but she spoke once to Sarath Fonseka after the story appeared in the paper. Questioned about a news item which appeared in the Sunday Leader newspaper "Her Story" on January 3, 2010, the witness said that she wrote that story because the JVP conducted a protest campaign against her.
After "Her Story" appeared in the newspaper, Sarath Fonseka did not contact her. Many people told her to deny the story. Sarath Fonseka never said that he would sue her for the story which appeared in the Sunday Leader about the white flag issue.
Jansz said that she made a statement to the CID about her story. Cross-examined by Senior Counsel Nalin Ladduwahetty, Jansz said she was charged for contempt of Court for not complying with a Court order.
Earlier she was told by the Mount Lavinia Court not to publish any defamatory articles against Defence Secretary Gotabhaya Rajapaksa in the Sunday Leader newspaper.
Answering the Senior Defence Counsel, Jansz said that she apologised to the Supreme Court in a separate case earlier.
Sarath Fonseka pleaded not guilty to the three charges preferred against him for making a false statement to The Sunday Leader Senior Journalist Fredrica Jansz that Defence Secretary Gotabhaya Rajapaksa had told Brigadier Shavendra Silva to eliminate LTTE cadres who come with white flags to surrender during the war.
The witness said that she was attached to the Sunday Times in 1991 joined the Sunday Leader newspaper in 1995.
Sarath Fonseka is charged on three counts under the Criminal Procedure Code and under the Emergency Regulations Sections 28 and 29. Deputy Solicitor General Wasantha Nawaratna Bandara with State Counsel Lakmini Girihagama, State Counsel Yohan Liyanage and State Counsel L Ratnayake appeared for the Attorney General.
Senior Attorney Nalin Ladduwahetty with Attorneys Nilanthi Peiris, Ajith Pathirana, U L G Bandara, Mervyn de Silva, Namal Rajapaksa and Swarna Bandara appeared for Sarath Fonseka.
Attorney-at-Law N M Shahied watched the interests of Fredrica Jansz. The case will be called again today at 10.30 am.
Courtesy: Daily News
Latest Headlines in Sri Lanka