Presidential poll announced: Both sides predict crossovers
Posted by Editor on November 21, 2014 - 9:00 am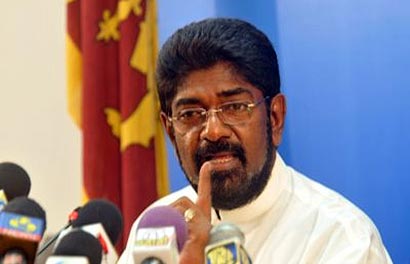 Yesterday's proclamation announcing a presidential election saw both the Joint Opposition Front(JOF) and government stating that they had engineered crossovers which would take effect in the coming days.
Even as President Mahinda Rajapaksa signed the proclamation at Temple Trees at 1.30 p.m, the SLFP's Chief Organiser for Mirigama Wasantha Senanayake defected to the UNP, while JOF sources said they were hopeful that 15 government MPs including some Ministers led by Maithripala Srisena would back their common Presidential candidate depending on the person nominated by the UNP Working Committee (WC) scheduled to meet today.
However, Media Minister Keheliya Ramabukwelle addressing the Weekly Cabinet Press Briefing at the Information Department earlier in the day stressed that Srisena would not join the Opposition and had been present at Wednesday's SLFP Central Committee meeting which had unanimously endorsed Mahinda Rajapaksa, whose name was proposed by Nimal Siripala de Silva and seconded by A. H. M Fowzie and C. B. Ratnayake.
Minister Rambukwella claimed that there were many from Opposition ranks who would be crossover to the government shortly.
Meanwhile, UNP sources insisted that there were still several candidates in the fray and no definite decision had been taken as yet. "The bottom line is that the JOF, whose membership is growing by the day, comprises of like-minded parties, civil society groups and individuals who want the Executive Presidency abolished. Bearing this in mind it will not be difficult to arrive at a consensus on the Common Candidate. The JOF's election manifesto has also been endorsed by a vast majority of the Buddhist clergy who, too, are of the view that the country urgently needed a system of government where the Prime Minister and his Cabinet are responsible to Parliament since the executive president had become a law unto himself in the post war era."
Minister Rambukwalle empahasised that the Opposition's demand for abolishing the executive presidency could be met only through the Parliamentary Select Committee (PSC) appointed for that purpose. "Those who are demanding that the Westminster System of government be reintroduced were boycotting the PSC proceedings.We, cannot make changes on our own without the participation of the Opposition. It is pointless when they make their demands at public meetings."
Even though some JHU members had resigned from their positions in government, the party still remained a constituent of their ruling alliance,he noted.
The Minister said that the SLFP CC had also appointed a National Election Committee headed by President Rajapaksa with Maithripala Sirisena as the Convener. The Committee members include Ministers Nimal Siripala de Silva, W. D. J. Seneviratne, Ratnasiri Wickremanayake, Basil Rajapaksa, Dullas Alahapperuma, A. H. M. Fowzie and Anura Priyadarshana Yapa.
Deputy Elections Commissioner M. M. Mohammed, confirming that the Gazette notification announcing a Presidential Election had been received, said that nominations would be called within 16 to 21 days.
(Courtesy: The Island)
Latest Headlines in Sri Lanka