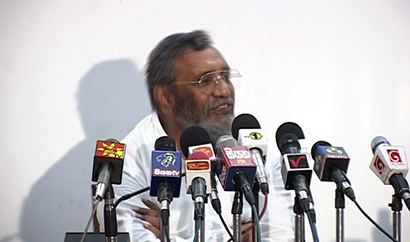 Elections Commissioner Mahinda Deshapriya yesterday said he is awaiting President Mahinda Rajapaksa's proclamation to proceed with the preparatory work for the 2015 presidential poll. "I shall receive the President's proclamation with instructions to conduct the Presidential Election 2015, either by midnight today or tomorrow (today 20)," Elections Commissioner Deshapriya said.
Asked what will be the date of election, the Commissioner said, "Well I would say that it will not be January 2, 2015 for it happens to be a Friday". Asked whether the likely date would be January 3, 7 or 10, the Commissioner said, "God only knows, I have to receive the proclamation from the President once and for all."
A Presidential poll shall be held on a weekday but not on a Friday. Also, it cannot be held on a Poya Day. "I can only guess the date of the election insofar as it stands, until I receive the President's proclamation instructing me to conduct the poll," Deshapriya said.
"I think I can announce the date of the Presidential Poll tomorrow (today), after the President's proclamation to this effect," said the Commissioner.
Once the President issues his proclamation to conduct a Presidential Poll, the Commissioner of Elections will issue the Gazette Notification giving the date and time for filing the nomination, as well as the date of the poll.
President Mahinda Rajapaksa completed the fourth year of his second term in office as President on November 19, 2014 . He took oaths for the second term in office on November 19, 2010.
(Daily News)