President's utterances now circulars
Posted by Editor on September 29, 2020 - 8:09 am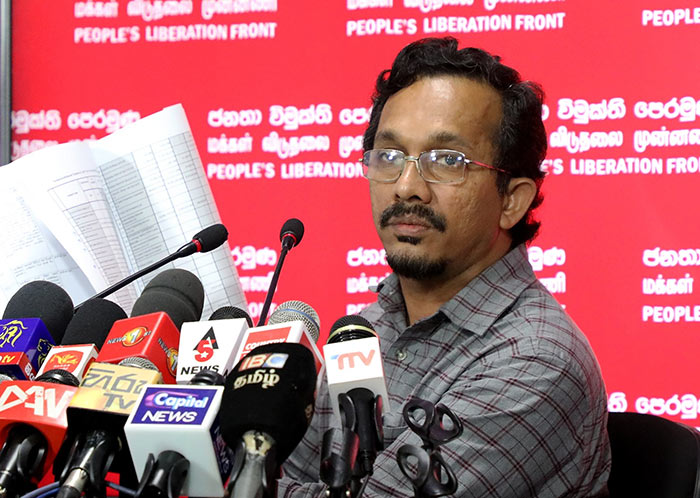 Instead of circulars, these days, what President Gotabaya Rajapaksa says is becoming a circular, JVP Member Sunil Handunnetti said.
He said the 20th Amendment completely weakens the appointment of the Auditor General and the audit process and deprives Parliament of its financial control.
He was speaking at a JVP Media briefing on 27 September in Colombo.
"The 20th Amendment abolishes the independence of Parliament to appoint the Auditor General and deprives the Parliament of its powers, by removing State institutions that are subject to audit. An audit also examines the financial statements of a corporation or a board, as well as whether those financial statements have been prepared according to the appropriate standard.
But under the new 20th Amendment, 117 State companies have been removed from the State audit. The next important thing is the removal of the Procurement Commission from the 20th Amendment. The procurement process follows procedures such as the Government calling for tenders on how to conduct the procurement process," he added.
He further pointed out that the 20th Amendment empowers the President to appoint the Auditor General and removes the requirement that he be a qualified person.
"It does not matter whether the person is qualified or not. A Colonel can also be the Auditor General. The people should oppose the 20th Amendment which creates this whole backdrop of legitimacy to rob the people and their money.
If there is a conscience, the ruling party Parliamentarians should oppose this. We urge religious leaders, scholars, intellectuals, businessmen, artists and the Media as well as the owners of the Media institutions, and the Buddhist clergy to speak up for this country," he further added.
(Source: Ceylon Today)
Latest Headlines in Sri Lanka