Prime Minister Manmohan Singh to host dinner for President Mahinda Rajapaksa
Posted by Editor on September 19, 2012 - 11:37 am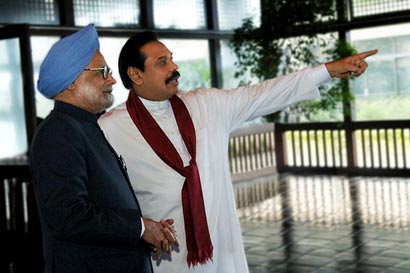 FILE PHOTO
Amidst ongoing protests in Tamil Nadu, Sri Lankan president Mahinda Rajapaksa will have dinner on Thursday with Indian Prime Minister Manmohan Singh in Delhi, where the latter is expected to raise the issue of effective devolution of powers in Tamil-majority areas in north and east of the island nation.
Rajapaksa will reach Delhi on Wednesday night and then fly to Sanchi in Madhya Pradesh by an IAF aircraft and then in a helicopter on Thursday morning.
He, along with the Bhutan Prime Minister Lyonpo Jigme Thinley, has been invited by the Madhya Pradesh government for the foundation stone laying ceremony of the University of Buddhist and India Studies in Sanchi.
The Lankan President, who will return to Delhi the same day, will call on his Indian counterpart Pranab Mukherjee before joining the Indian PM for dinner at the latter's Race Course Road residence. According to sources, the Indian side is expected to put pressure on Rajapaksa to take quick and visible steps for the rehabilitation of Tamil civilians, who continue to be plagued by the lingering after-effects of the end of the civil war in the island nation.
The visit comes amidst vocal protests from parties in TN where a 26-year-old auto driver on Monday committed self-immolation against the visit of Rajapaksa. (New Indian Express)
Latest Headlines in Sri Lanka