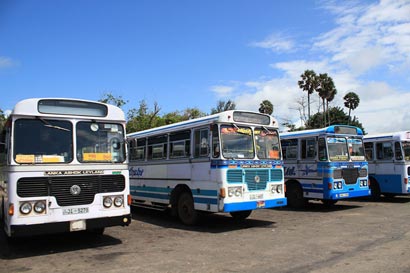 Lanka Private Bus Owners Association (LPBOA) President Gemunu Wijeratne yesterday gave effective notice of an impending bus fare hike with the government increasing the price of diesel by eight rupees per litre.
He told a media briefing that all district presidents and organizers of the LPBOA would meet on Wednesday (2) and take a final decision. The LPBOA was running more than 17,000 private buses.
Nobody expected such increase at this juncture. Bus owners were beginning to incur losses, Rs. 500 to 750 running short distances and Rs. 1000 to 1500 on long distance services. The LPBOA could not tolerate this unfair increase of fuel prices and the executive committee of the LPBOA would meet on November 2 to take the final decision, he said at a media conference held at Narahenpita Women's center on October 30.
The LPBOA never expected such an increase so early. Because two months ago, bus fare revision was implemented. All private bus operators had fallen from the frying pan into the fire with the latest fuel hike. Almost all bus owners were beginning to incur losses on their daily operations.
Courtesy: The Island