Private bus strike called off
Posted by Editor on June 27, 2011 - 5:45 am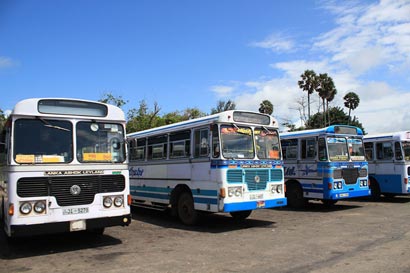 The private bus strike planned by Lanka Private Bus Owners' Association (LPBOA) from today was called off yesterday. LPBOA president Gemunu Wijeratne told the media that the proposed strike by his organization demanding a fare hike had been cancelled. However, Wijeratne said that his organization would go before courts in the future to sort out several issues including the proposed fare hike.
Meanwhile, a majority of the private bus unions decided not to support the strike proposed by LPBOA. Three bus operator associations earlier stated that they would not support the strike proposed by LPBOA.
All Ceylon Private Bus Owners' Association secretary Anjana Priyanjith said that his organization was opposed to the strike as they were in agreement with the proposed bus fare hike by the government. He said that the proposed increase was fair by both bus owners and commuters.
He also praised other measures taken by the government in the recent past to solve bus operators' issues as well as to ensure commuter satisfaction.
Meanwhile Private Transport Services Minister C.B. Ratnayake earlier said, the government had taken all steps to ensure uninterrupted bus services on all routes. Minister Ratnayake stressed that strike or no-strike the government was not prepared to inconvenience commuters. He said that only one private bus association was threatening to strike while all others were willing to accept the assurance given by authorities on the fare hike.
He said that authorities would deploy additional state run transport services to help commuters if the association continued with the strike.
The minister noted that the government was always fully committed to ensure quality public transport. He said that he was always open for negotiations with any association to resolve issues or grievances. "However, I am not prepared to give into unreasonable demands. The service provided to the public must always be the top priority", he added.
Source: Daily News
Latest Headlines in Sri Lanka