Private buses will charge extra: LPBOA
Posted by Editor on June 2, 2016 - 7:15 am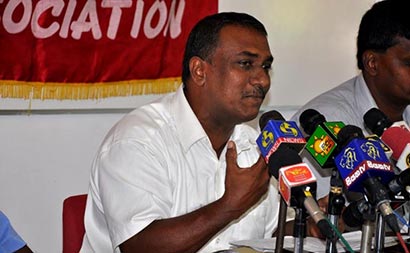 An extra percentage would be charged from private bus passengers taking into consideration the cost of fuel wasted due to delays caused by traffic congestion, from July 1, said Lanka Private Bus Owners' Association (LPBOA) Chairman Gemunu Wijeratne yesterday.
He said such a decision would be taken if the government did not take action to reduce the number of private vehicles on the road.
"The recent tax increment was mainly on luxury vehicles, but no tax was imposed on small vehicles. The government also encourages the people in the country to buy vehicles with lower engine capacity," Mr. Wijerathne said.
"The number of private vehicles on the roads is at its peak. Due to that, road traffic is increasing. Private buses have to spend more time on the road and 50 percent of the fuel is wasted. This is a huge loss for the bus owners," he said.
"We have already informed the National Transport Commission (NTC), Transport Minister Nimal Siripala de Silva and Finance Minister Ravi Karunanayaka requesting a discussion regarding the decision. We have also informed President Maithripala Sirisena and Prime Minister Ranil Wickremesinghe," he said.
"As private bus operators we are responsible for 52 percent of the public transportation in the country. But the government is not giving any consideration to the private bus sector. The government is not taking any steps to develop the private bus industry," he said.
"It has been over six months since we suggested a separate bus lane on the main roads but the government does not seem to be considering it," he said.
"If the government does not find a way to ease the traffic congestion, the association will definitely conduct an island wide bus strike soon," he said.
(Daily Mirror – By Chaturanga Pradeep)
Latest Headlines in Sri Lanka