Professional journalists should act, comprehending their role – Minister
Posted by Editor on May 4, 2013 - 7:33 am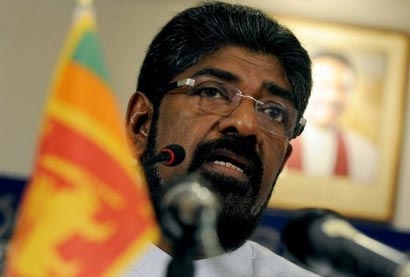 "Due to the rapid development of information dissemination and the media and the technical development achieved as a result, the whole of humanity has been embraced by the media.
"Therefore, the contemporary media has been able to exert pressure on social individuality equal to the impact exerted by the state administration, and legal sectors.
"It is in this regard that it is important that professional journalists comprehend their role," states Mass Media and Information Minister Keheliya Rambukwella in a message to mark the one day workshop " Patriotism and the Role of Media" held at the Government Information Department auditorium in connection with International Media Freedom Day. The Ministers message adds: "The media which is a trustworthy and powerful tool in molding people's opinion and understanding is playing an important and powerful assignment similar to the legislature, the executive and the judiciary.
"As it has been acknowledged in the constitution the right of the people for their freedom of language and the freedom of expression, and if these rights are not being implemented properly people will loose their trust in the democracy. "If the people get true information about things happening in the country at all times, they will come to the right conclusions.
The trust of the people will not get slackened. But distorting of information, misleading the people's opinion and destabilizing society by using the media are also taking place. In this regard that it is important that the professional journalists should act with the right understanding. As it has been emphasized in the Mahinda Chintana "It is my belief that instead of using the media for mere political animosity, it should be used with self restraints for achieving country's social, cultural economic development objectives and to raise the glorious name of the country without damaging social and moral ethics.
Therefore, it is my policy to strengthen the media personnel with knowledge and experience to establish a developed media culture" With the media freedom, the number of media institutions has also increased. Under these circumstances it is essential to identify the right path the media should proceed". The Minister concludes his message saying that he firmly believes that this workshop on 'Patriotism and the role of media' will help to clearly understand the road map of the media.
(Courtesy: Daily News)
Latest Headlines in Sri Lanka