Project will resume if report 'satisfactory' – Govt says Port City EIA ready
Posted by Editor on October 16, 2015 - 8:15 am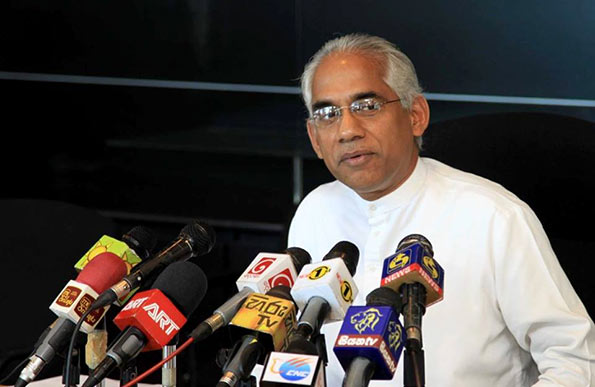 Deputy Minister of Highways and Investment Promotion, Eran Wickramaratne said if the Environmental Impact Assessment (EIA) report on the Colombo Port City Project is satisfactory, the project will resume without any issue. The project was suspended by the new government in March this year over the dubious EIA conducted during the Rajapaksa regime.
The report will be sent to the Department of Coast Conservation before tabling at the Cabinet meeting next week for approval, authoritative sources said.
Wickremaratne confirmed the EIA report on the Port City Project has been concluded.
"If the report is satisfactory we will proceed with the project after obtaining Cabinet approval," he said adding that by beginning of next year the project will recommence if everything is satisfactory.
The new government initially added that certain clauses in the initial Sino-Lanka agreement on the Port City Project also needed to be examined as there were flaws in it.
Deputy Minister Wickramaratne said that according to the agreement any amendments in the Port City Project proposal could be resolved through discussions between the two countries.
"The core issue was the environmental impact assessment and if that is completed properly and satisfies us, the project will resume," he added.
Chinese Special Envoy Vice Foreign Minister Liu Zhenmin who arrived in Sri Lanka last week also confirmed that the suspended Colombo Port City Project's Environmental Impact Assessment had been concluded and hinted that the leaders have stated that they are looking forward to resumption of the project.
Minister Zhenmin told the media that economic cooperation could continue but firstly, the present projects which are undertaken by the Government of Sri Lanka should recommence.
He also pointed out that Chinese companies involved in the Port City Project have been complaining that the delay was causing economic losses.
The Chinese Special Envoy also revealed that a Sino- Lanka agreement had been reached under which the two countries will work together in building the 21st Century Maritime Silk Road and coordinate their development strategies to achieve a win-win cooperation
(Source: Ceylon Today)
Latest Headlines in Sri Lanka