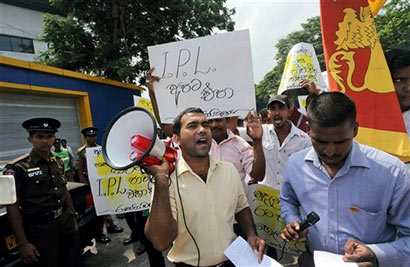 'Ravana Balaya' members including Buddhist monks held a protest rally outside Sri Lanka Cricket office today vowing to "take action against the cricketers who are prostituting themselves for money".
Some 200 members gathered there chanted slogans against the Sri Lankan cricketers who are participating in the Indian Premier League (IPL).
"These cricketers have prostituted themselves for Jayalalithaa's money. We respect those who refused to bow down to money power," the organisation's secretary Iththakande Saddathissa Thera said.
Five monks were allowed to enter the SLC office and hold discussions with SLC Secretary Nishantha Ranatunga.
"Nishantha was aggressive, but we can be more aggressive. We have good medicine for aggression. The day will soon arrive when the very same hands that applauded the cricketers are used to throw rotten eggs at them," the monk said.
(Courtesy: DM Online)