Rain ruins match after Sangakkara fifty
Posted by Editor on March 6, 2011 - 5:34 am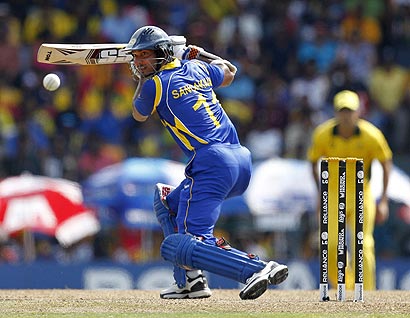 Match Abandoned 32.5 overs Sri Lanka 146 for 3 (Sangakkara 73*, Samaraweera 34*) v Australia
Torrential downpour forced the game to be abandoned after Kumar Sangakkara pushed Sri Lanka to 146 for 3 in 32.5 overs. It was a typical tough scramble of a contest that is expected on a turning track in Sri Lanka. Sangakkara led from the front with a responsible, and skillful, knock to push Sri Lanka towards a competitive total when rain intervened to kill the contest.
The way the ball turned and bounced suggested that anything over 250 would be defendable, and it appeared as if Sangakkara was batting with that knowledge in his mind. He had two good partnerships with Mahela Jayawardene and Thilan Samaraweera before the elements took over.
Jayawardene had added 44 runs with his captain and they looked in great touch and control. If Sangakkara tried to punch through the line, Jayawardene looked to caress through the covers; if Sangakkara dabbed to the off, Mahela nudged to the leg, and both ran the singles well. The run-rate wasn't too high but Sri Lanka looked to be in control as the track was increasingly showing signs of aiding turn and bounce.
They thrived on quick singles and ironically, it led to Jayawardene's dismissal. He hesitated after tapping to point and that allowed Steve Smith to fire in a direct hit at the non-striker's end to catch him short of the crease. Sri Lanka were 75 for 3 at that stage and the pressure escalated on Sangakkara, but he continued on with his serene style.
Sangakkara's class stood out right from the moment he walked out to the middle after Tillakaratne Dilshan combusted early, slashing Shaun Tait to second slip in the second over. Even as Upul Tharanga struggled for timing and looked to be hurried by the pace, Sangakkara seemed to have time to play the ball late. He punched Brett Lee to the straight boundary, laced him through the covers and whipped through midwicket to collect 12 runs from the third over. He then square drove Shane Watson to the boundary, but the shot of the day was a classy on-the-up caressed punch off Mitchell Johnson to the straight boundary in the 12th over. Along with Samaraweera, he ensured there would be no further damage and steered Sri Lanka to a strong position when the ground was deluged by heavy rains.
Courtesy: ESPNcricinfo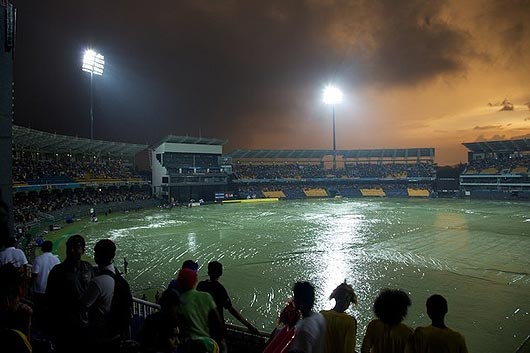 Latest Headlines in Sri Lanka