UNP QUESTIONS GOVT'S RESPONSE IF LLRC IS REJECTED BY INTERNATIONAL COMMUNITY
Posted by Editor on March 5, 2011 - 5:32 pm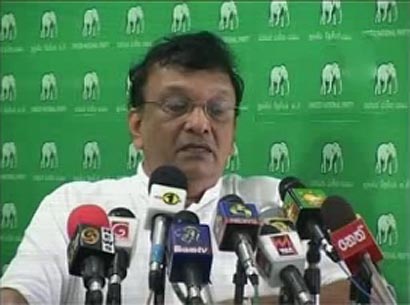 The government needs to explain what action it will take, if the international community rejects the Lessons Learnt and Reconciliation Commission (LLRC), says Lakshman Kiriella, UNP MP.
At a media briefing held yesterday the United National Party commented on the powers vested in the LLRC.
"When we consider the powers vested in the LLRC, it is clear that they have no power. The commission does not have the authority to look into matters pertaining to human rights, disappearances and what happened during the final stages of the conflict.
"The international community cannot be deceived. Recently the United States Assistant Secretary for South and Central Asian Affairs said that the LLRC was an eyewash. Furthermore yesterday the United States Senate adopted a resolution for an international inquiry to be conducted against Sri Lanka.
"I believe that the government will respond to the question about what action they will take if this Lessons Learnt and Reconciliation Commission is rejected by the international community," said Kiriella.
Source: News First
Latest Headlines in Sri Lanka