Rajapaksa to pay last respects to Mandela
Posted by Editor on December 9, 2013 - 8:00 am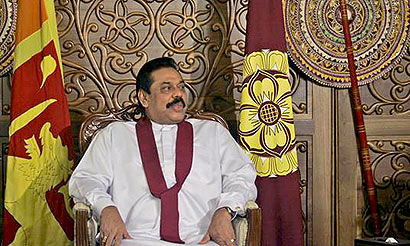 President Mahinda Rajapaksa will leave for South Africa to pay his last respects to late Nelson Mandela, an anti-apartheid icon and the country's first black president, the Presidential Spokesman Mohan Samaranayake said.
He is expected to attend the public memorial for Mandela, which will take place on Dec. 10 in Johannesburg, the largest city of South Africa, as well as his lying in state in Pretoria, the Capital on Dec. 11.
In a condolence message as Chair in Office of the Commonwealth, Rajapaksa described the late Nelson Mandela as an iconic figure who has left an indelible mark globally.
"The legacy of peace the late President Mandela established, and the philosophy of life he exemplified have been a great inspiration for those of us in Sri Lanka who, for many years, strived for peace."
"His life and philosophy have deeply inspired me and I consider President Mandela's demise a great loss to me personally," he said.
Ten days of official mourning have been declared in South Africa for the beloved leader of the fight that toppled racist apartheid in the country.
During that time, there will be a series of wrenching memorials attended by international heads of state, captains of industry, a constellation of Hollywood stars — and millions of grateful South Africans.
It will be capped by a state funeral on the grounds of Mandela's home in the village of Qunu that is expected to be attended by scores of world leaders and thousands of regular folk.
The South African military will be locking down the village with a tight security cordon and the service will be broadcast to millions of mourners around the world.
A spokesperson says it will possibly be 'the biggest funeral' the world has seen, but when Mandela's coffin is finally lowered into the rocky ground, it will be in the presence of just family.
Mandela, 95, died Thursday at his home outside Johannesburg after a long battle with lung infections and other ailments stemming from the tuberculosis he contracted during his 27 years in prison.
The South African government — and Mandela's family — have been planning his sendoff for months, in anticipation of the national and international outpouring of grief for the Nobel Peace Prize winner.
Mandela's ultimate destination is Qunu — the rural village in the Eastern Cape province where he grew up and where a state funeral is planned for Dec. 15.
President Obama, along with former Presidents Bill Clinton and George W. Bush, are expected to join world leaders from across the globe and pay homage to the revolutionary-turned-reconciler, South African newspapers reported.
Pope Francis, the Dalai Lama, and British Prime Minister David Cameron are also expected to attend parts of the Mandela memorial, although it wasn't clear whether they would attend the actual funeral.
Before Mandela is buried, there will be a national day of prayer in South Africa on Sunday.
(Courtesy: Ada Derana)
Latest Headlines in Sri Lanka