Rajapaksa wants Colombo–Jaffna expressway
Posted by Editor on November 28, 2011 - 11:12 am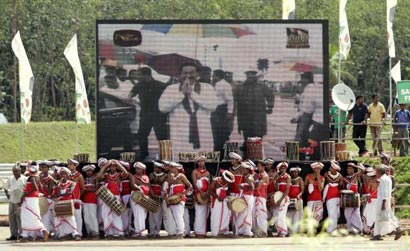 Soon after opening the first expressway in the country, connecting the capital Colombo with the southern port city of Galle on Sunday, Sri Lankan President Mahinda Rajapaksa has begun spadework on the next infrastructure project: An expressway linking the capital with the Tamil-dominated Jaffna.
"I will work on the Jaffna expressway so that the distance can be covered in three hours," Mr. Rajapaksa said. Jaffna is about 400 km from Colombo. The A-9 highway leads to Jaffna and the road, which had not been re-topped in a few decades, is being repaired in stages now. A one-way journey takes upwards of 10 hours by bus now.
"The President is determined about it [the Colombo – Jaffna expressway," said Director General, Presidential Media, Bandula Jayasekara. "He said the country needs more connectivity to bring people together," he added.
The expressway linking the two cities is in top of his mind and figured in his Monday morning briefing. Mr. Rajapaksa, who is also in charge of Highways, has directed his officials to get on with the preliminary works so that work begins on an early date. He is particular that the delays that plagued the first expressway does not come back to delay the work on the Jaffna highway.
Developing infrastructure
Mr. Rajapaksa is pushing to get Sri Lanka infrastructure-ready to make sure that foreign investments are not held back merely because the country's transport and other infrastructure is in a shambles. Work is already on to build a second passenger terminal at the gateway to Sri Lanka, the Bandaranaike International Airport; a second international airport is coming up at Hambantota and other smaller airports in the country are being developed.
India, for instance, has helped in rebuilding the runway at the Palaly airport in Jaffna. The country's main airline, Sri Lankan, has begin operating air taxis to many destinations – Kandy, Nuwara Eliya, Bentota, Trincomallee and Arugam Bay.
Besides, work on the Colombo Port's second terminal is apace and India is working on the Kankasanthurai harbour, which is closest to the Tamil Nadu coast. Roads across the country are being re-laid and air-connectivity between Colombo and some world capitals have recently been revived.
The number of tourist arrivals crossed the mark set for the year 2011 in November – 7.5 lakh.
Courtesy: The Hindu
Latest Headlines in Sri Lanka