Rajitha points accusing finger at a clique
Posted by Editor on January 3, 2017 - 8:00 am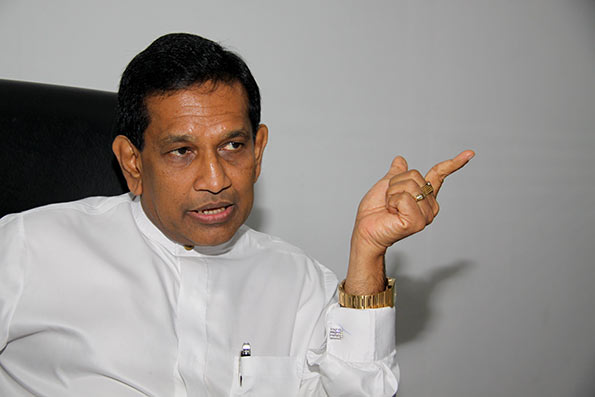 Co-Cabinet Spokesperson and Minister of Health Dr. Rajitha Senaratne in an interview with Ceylon Today discussed the current political developments, plans for the health sector in 2017 and rumours of his appointment as the next prime minister.
Excerpts:
Q: The Development Special Provisions Draft Bill has been rejected by eight Provincial Councils, and the bill is to be discussed in the Eastern Provincial Council. It should have been obvious that such a bill, which limits the powers of the Provincial Councils, would be rejected. How did the government not see this?
A: We have to admit that we must make Sri Lanka a more investment friendly country because right now it takes so much time for an investor to get things up and running. I have always insisted that we must have a one stop shop for investors. That being said, we must also realize that all stakeholders should have been consulted when drafting an important bill such as this. If it is understood that the bill would be presented to Provincial Councils, the Chief Ministers should have been consulted from the beginning. Now, after realizing that the councils are going to reject the bill, some attempts have been made to consult the Chief Ministers. My question is, "Why was this not done earlier?" If the Chief Ministers were met, they could have come up with a better draft that the councillors could accept. My personal opinion is that this Bill should not be presented to Parliament as it is.
I am also vehemently opposed to the provision that affords the respective minister immunity from any action if performed in good faith in pursuance of their functions. This is ridiculous. At a time when the President is getting rid of provisions which give him immunity, why do we need to create a provision which gives a minister immunity? And how do we determine "good faith"? Does anyone ever say they are not doing something in good faith? All the crooks also say they do things in good faith.
There should have been a debate on the draft Bill, especially with the Chief Ministers of the Provincial Councils, prior to drafting a bill of such importance. Considering everything I am convinced that the Development Special Provisions Draft Bill was penned by someone who does not understand the laws of this country. I am not afraid to call the Attorney-at-Law who drafted this Bill an idiot.
Q: There is a belief that the country is now administered by the Prime Minister and a few of his friends. There are constant accusations that most of the unpopular policies of the government are taken by them. Is this also one of those policies?
A: The reason why there is such an accusation is the fact that the Prime Minister defends his friends all the time. He believes that his friends are also honest and are extremely loyal to him. If they are such good friends, they should ensure that their actions boost the reputation of the Prime Minister.
We have to do what we can to enhance the public persona of the President and the Prime Minister, because the success of this endeavour very much depends on the social capital of these two leaders.
But if anyone attempts to use the reputation of the Prime Minister to fulfil their narrow agendas these people are not real friends. One of these friends didn't even have the decency to resign from his post, given to him by the Prime Minister, when there were severe allegations against him. These are the reasons why people assume that all unpopular decisions are taken by a clique and that the Prime Minister is a part of that group.
Q: President Mathripala Sirisena has declared that local government elections will be held in mid 2017. Three Provincial Council elections are also to be held. It is likely that the main constituent parties of the government will contest separately. How will that affect the unity of the government?
A: I don't think either party has taken a concrete decision about how to contest. I know that there are many internal discussions within the parties and there have been some inter-party discussions, but I don't think a final decision has been made.
My belief is that we must not lose the current cooperation and unity between the two parties because of the elections in 2017. The Mahinda Rajapaksa faction wants the two parties to stop working together. They fear that the illegal activities that they carried out will be exposed by the government and that they will be punished, so toppling the government is their only option for survival. Personally, I will not agree to any action that will fulfil the desires of the Rajapaksa faction.
Q: Recently I saw a popular Facebook meme which said me aanduwen godagiye Wasim saha Lasantha Vitharai (only WasimThajuden and Lasantha Wickramatunga were 'unearthed' under the current administration.) I think this captures essentially how the people feel about how the government has gone about fulfilling one of its main promises – anti-corruption and punishing those behind massive corrupt activities. Why have things been so slow?
A: Because some people in the government have come to certain agreements / deals with the Rajapaksa camp. For example, three ministers were involved in defending the controversial Avant Garde company. For them what was more important was a good payday, not the sustainability of the government. Certain people have been appointed to hold important positions in State institutions. They have had business dealings with Gotabhaya Rajapaksa. There are ministers who address Gotabhaya as "Sir". There are also ministers who meet Gotabhaya secretly and share classified information with him.
Also, certain bureaucrats still have strong ties with the Rajapaksas. For example, once a Government Analyst's Department report on why there were no serial numbers on the weapons used by Avant Garde stated that this was because the weapons had been rubbing against each other. I mean how ridiculous is that? This is why I always say that while the government has changed the State apparatus remains pretty much unchanged.
So we are carrying-out the investigations despite a lot of resistance and betrayal. But I am not just making excuses. As a government we must take strong action against the people (who try to hold us back) and fulfil our promises.
Q: While there is criticism against the government, I don't believe that those who voted for Maithripala Sirisena would vote for a member of the Rajapaksa family. And the UNP leadership knows that the Rajapaksas can be used to split the SLFP. Isn't this another reason why they are not punished because they are useful?
A: There is such a belief. But it is stupid to believe that the UNP can win by splitting the SLFP. Those who believe such ideas and act upon them are just inviting disaster.
Only by coming up with an attractive and concrete plan to develop the nation and achieve good governance can we win. Leaders who resorted to manipulation and Machiavellian ploys have not been successful.
The ideal example is J.R. Jayewardene. Today not even hardcore UNPers celebrate JR because his entire career was filled with intrigue and manipulation. People don't like it. On the other hand, Sri Lankans still venerate politicians such as D.S. Senanayake who were honest and told the truth to the people.
Q: The verdict of the Raviraj murder case, where the accused were released by a jury, has led to a lot of controversy. TNA MP M.A. Sumanthiran, who represented Raviraj's family, was quick to declare the verdict as an example of the inherent bias in the Sri Lankan judiciary against minorities. What do you think will be the fallout of this?
A: The verdict does not reflect on the independence or the impartiality of our judges and this can't be taken as a reason to push international judges to investigate alleged war crimes against the security forces.
The problem here was the way our juries work. When a case is taken up, the defendant has the right to ask for a jury, which will either consist of completely Sinhalese or Tamils. There is no provision to have juries comprising both Sinhalese and Tamil members. And the defendant can either ask for a Sinhalese or Tamil jury.
In a case like that this has a significant impact. In this case the jury comprised Sinhalese and they might be influenced by the belief that no matter what these people have done, they are war heroes and that Raviraj was a pro-LTTE politician. We can't discount the impact the preconceived notions of the jury members had on their verdict. The judge was not at fault and we need to change the jury system, not to clamour for international judges.
I admit that the verdict has created a problem for Sri Lanka. If they are not guilty, who killed Raviraj? On the other hand, the Director of State Intelligence Services gave a testament that was deliberately planned to muddy the waters. That is why I insist over and over again that, although the government changed the State has not changed. We must do something about this fast, because when these things keep on happening people lose faith in the government.
Q: Finally, as the Minister of Health what are your priority areas in 2017?
A: The biggest health challenge in the coming years, here and in other parts of the world, is non-communicable diseases. We have started several initiatives to address this issue. One is our battle against tobacco and even the companies are saying that smoking has dropped by 45 per cent after our tax increases. We have also looked at whether people have started smoking beedi but that is not the case. Usually a person who smoked cigarettes doe not shift to beedi and if beedi consumption has increased, at maximum it would be around 1 per cent.
The other aspect is educating the people. Right now health checkups are only performed by the private sector and most can't afford it. I plan to establish 842 centres where people can get heath checkups done. We have also established 906 well women centres where women can screen for breast and ovarian cancers.
We will also introduce the concept of a "family physician". Today people go for specialists even for a cold. What we want to do is attach 5, 000 persons to one designated doctor. Those people must get a health check-up done once a year or once in every six months and the family physician will keep the records with him. So the doctor can study the reports, determine whether there is a possibility that someone can contract a serious disease and take necessary steps at the initial stages. Initially this endeavour will cost a lot of money, but in the long run we will save much more because we are addressing diseases before they require extensive medical care.
Moreover, we will go to each school and government institution to educate them of good health practices, food and exercises.
Q: There are rumours of a Cabinet reshuffle next year and the appointment of a new Prime Minister. It is said that you are one of the leading contenders for that post. Is there a truth in this?
A: There is a difference between people talking about it and getting that appointment. I also know that there is a rumour circulating and people have asked me whether it's true. But I don't know how this rumour started.
(Source: Ceylon Today – By By Rathindra Kuruwita)
Latest Headlines in Sri Lanka