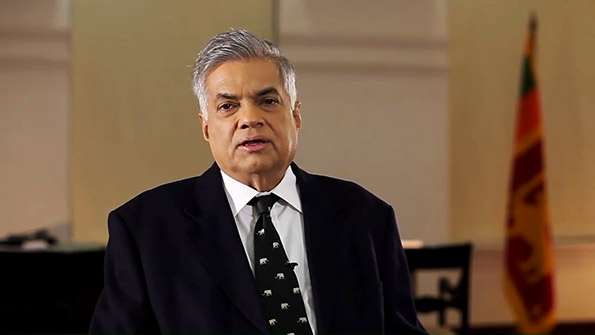 Improving on his 2003 idea of converting south India-Sri Lanka sub-region into a single market, Sri Lanka's Prime Minister Ranil Wickremesinghe is now for economic collaboration among his country, Singapore and the five southern States of India.
New idea
Describing his proposal as a "vision of convergence that is inextricably interwoven with the future of South Asia as a whole," he said the proposed arrangement had the potential of enhancing economic cooperation among the three countries which would also have a "positive impact on the Bay of Bengal trade."
Presenting his new idea at the South Asian Diaspora Convention a few days ago in Singapore, he reminded the audience that India and Singapore had Comprehensive Economic Cooperation Agreement (CECA) [signed in June 2005]. His country was negotiating a Free Trade Agreement (FTA) with the south-east Asian country.
Pact by year-end
On Sri Lanka's efforts to enter into Economic and Technology Cooperation Agreement (ETCA) with India, the Prime Minister expressed the hope that the pact, which would go beyond the present FTA arrangement of trade in goods and include "trade in services, investments and technology cooperation," would be signed by "the end of this year." He added that "the complementary economic developments in south India and Sri Lanka will be enhanced by ETCA, which will provide an impetus to the existing synergies."
Highlighting the fact that the five Indian States, with a total population of 250 million, had a combined gross domestic product (GDP) of nearly US $ 450 billion, he said that with the addition of Sri Lanka's $ 80 billion GDP, the sub-region would have a $ 500 billion economy. "The ETCA has the potential to promote a rapid growth of the US$ 500-billion sub regional economy," Mr. Wickremesinghe said.
By next year, the Indo-Lanka ETCA and the Sri Lanka-Singapore FTA combined with the Singapore-India CECA would "enable the southern sub region of South Asia and Singapore to establish a tripartite arrangement for trade and investments."
Explaining how his fresh proposal would be beneficial to all, the Prime Minster said Sri Lanka's close proximity to the fast-growing south Indian states "offers a strategic economic advantage to the country." At the same time, the sub-region, especially India, also "stands to benefit immensely from Sri Lanka's uniquely positioned geo-strategic advantage – its location at the crossroads of major shipping routes connecting South Asia, the Far East and the Pacific with Europe and the Americas." Singapore too would expand its importance and capacity for business networking in the region.
He visualised Sri Lanka of becoming a "geo-economic center of South Asia, dynamically and synergically engaged with the rest of region."
He concluded his speech, saying that "it is up to us then to be imaginative and bold in providing the political leadership to maximise on the potentials and opportunities of such a convergence."
(The Hindu)