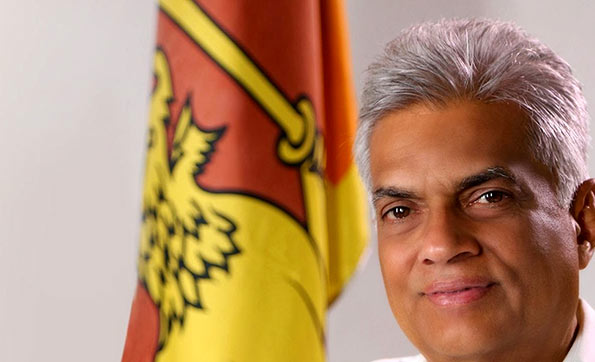 UNP leader Ranil Wickremesinghe was sworn in as the Prime Minister of Sri Lanka before President Maithripala Sirisena at a ceremony at the Presidential Secretariat.
Former President Mahinda Rajapaksa, who contested against Wickremesinghe at the General Election, was also present at the occasion.
Meanwhile a Memorandum of Understanding (MoU) was also signed between the Sri Lanka Freedom Party (SLFP) and the United National Party (UNP), the country's two main parties, to work together in the next Parliament.
The MoU was signed by UNP General Secretary Kabir Hashim and SLFP Acting General Secretary Duminda Dissanayake.
Ranil Wickremasinghe who contested from the Colombo District in the General Election which drew to a close on Tuesday (17) consolidated his victory polling 500,506 votes. It is the highest number of votes polled by a candidate in Sri Lanka's elections history.
Wickremesinghe was first appointed as the Prime Minister from 1993 – 1994 after the assassination of former President Ranasinghe Premadasa.
He was also elected as the Prime Minister from 2001 – 2004 when the United National Front Government won the parliamentary elections in 2001. Wickremesinghe was appointed as Prime Minister for the third time by President Sirisena after winning the 2015 Presidential Election.
A lawyer by profession, he was elected to Parliament in 1977 at the age of 28 having worked in the Youth League of the UNP since his university days. He held a number of portfolios in the J.R. Jayewardene and R. Premadasa Governments. He was also the one time Minister of Education.
The other members of the cabinet are expected to be sworn in on Monday after the composition of the consensus based national government takes shape over the weekend.
The Wickremesinghe-led alliance emerged as the largest group in the 225 member parliament with 106 seats, seven seats short of simple majority.
On Thursday, the opposition Sri Lanka Freedom Party (SLFP), which is led by President Maithripala Sirisena, agreed to form a national government with the United National Party (UNP) led by Prime Minister Ranil Wickremasinghe.
(Ada Derana)