Ranil willing to co-operate with government if …
Posted by Editor on April 4, 2011 - 4:15 pm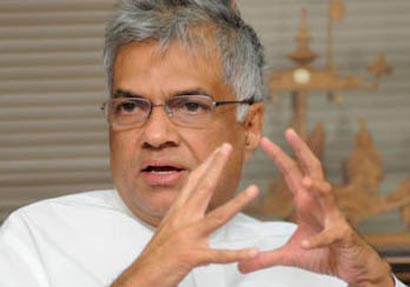 Opposition and UNP Leader Ranil Wickremesinghe says that the Opposition is ready to cooperate with the government if the latter is willing to place full confidence in the Opposition and work for the benefit of people.
The forthcoming two years would be very difficult and hard for the nation and the government must brace for the hard times, Wickremesinghe said addressing a special session of the newly elected UNP members of the Passara Pradeshiya Sabha on Saturday. The government must stop blaming the international community and the Opposition and instead genuinely engage in finding ways and means of providing for the people. If the government's moves to bring relief to the people are genuine, then the opposition was ready to cooperate with the Rajapaksa government. But if such moves served only the purposes of the UPFA then there was no point in cooperating with it, the Opposition Leader said.
The government had promised to provide relief measures for the common people and sought a mandate to end the war. It had pledged to take steps to alleviate poverty and lessen the burden of people weighed down with a high cost of living. But since the day the war was over, the government had been preoccupied with self-aggrandizement. It did nothing but held the elections to cling on to power for few more years before the glory of winning the war diminished, Wickremesinghe said.
He said the Mahinda Rajapaksa government in power, though it had failed to provide relief and work for the development of the country for the last two years, could start anew to clear the obstacles to progress of the nation.
The government should face and address the problems it is confronted with instead of trying to evade and wishing them away, Wickremesinghe said.
Although the government could not find speedy solutions to people's problems it had managed to increase the monthly salaries of the ministers by one hundred rupees each recently, the Opposition Leader said calling upon the government to sit and talk with the Tamil National Alliance to find a political solution to the national problem without wasting any more time. "These talks could be further expanded that all parties represented in Parliament could make their proposals. The aim should be to bring about a political solution acceptable to Sinhala, Tamil and Muslim communities. I do not think it's a task unachievable," he added.
Courtesy: The Island
Latest Headlines in Sri Lanka