Ranil's 'Media Mafia' eager to send me to UPFA – Dayasiri
Posted by Editor on August 12, 2012 - 7:09 am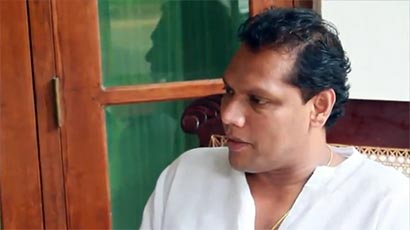 UNP's Kurunegala District MP Dayasiri Jayasekara yesterday (11) quashed rumours about crossing over to the government, and charged that such a canard was being spread by the 'Media Mafia' of  UNP and Opposition Leader Ranil Wickremasinghe's media unit.
Jayasekara claimed that Wickremasinghe's media unit had control over certain private media establishments and websites. "They're using the 'blue eyed boys' close to Ranil to sling mud at me to damage my political career and popularity", Jayasekara claimed.
He said this 'Media Mafia' of Ranil spread a story on Friday (10) that he was to cross over to the government in Parliament and even gave an auspicious time. "I don't know which astrologer known to that media mafia had made that prediction that never materialised", Jayasekara cracked.
The MP said he was to board the UNP platform yesterday from Kegalle to begin the PC election rallies, but having come to understand about his presence, the UNP leadership had cancelled that meeting.
Jayasekara said he would start campaigning for the UNP from Anuradhapura today (12). "The UNP leadership had reportedly threatened the organizers there not to bring me, but they (the organizers) had fearlessly told Ranil that they want me even if he (Ranil) did not come," Jayasekara said.
Continuing, he dismissed rumours from the UNP leader's 'Media Mafia' that he has had meetings with President Mahinda Rajapaksa and his son Namal Rajapaksa to discuss a crossover. "The President is a good friend and so is Namal, and whenever they speak to me, I speak to them, because they both are gentlemen and good politicians, unlike other leaders", Jayasekara opined.
He said that he has cut a political figure in Sri Lankan politics and had gained immense popularity among all citizens and his voters, and was not prepared to make political blunders as some others had done in the past. Meanwhile, sources close to Ranil Wickremasinghe maintained that Dayasiri Jayasekara was to do a 'political pole-vault' at any given time and added the MP would get on the UPFA platform at Anuradhapura on August 18, when President Mahinda Rajapaksa officially kicks off the UPFA PC election campaign.
Courtesy: The Nation
Latest Headlines in Sri Lanka