Ravi to make special statement on country's financial situation
Posted by Editor on September 29, 2015 - 8:47 am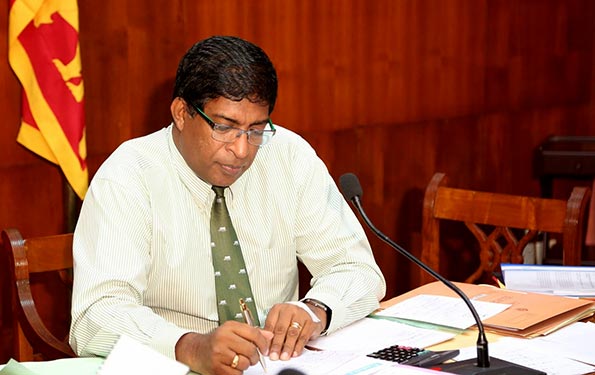 Finance Minister Ravi Karunanayake said he will make a special statement about the financial situation of the country within the next two days. It will also reveal the manner in which world economic trends influenced Sri Lanka.
Their main responsibility is to strengthen the country's economy notwithstanding the world financial situation. They were presently discussing these (situations) with economic experts and asking them to make proposals to be included in the government budget to be presented on November 20. They are prepared to include all sound proposals in the budget.
Karunanayake was speaking to the media after meeting CIMA President Mrs Myrian Maddem who called on him at the Finance Ministry yesterday. During the meeting Mrs Maddem congratulated Minister Karunanayake for being the first CIMA qualified Finance Minister in the world and wished him success in all his future endeavours. She said this was a great source of strength to Sri Lanka's economic development process.
Minister Karunanayake also told the media that the bankrupt opposition parties were directing various false accusations against the government saying there were moves to privatise certain institutions.
He wished to categorically state that they had removed the word 'privatisation' from their vocabulary, and what they intend doing was to subject certain state institutions to proper management. It did not mean divesting state ownership.
For instance the loss incurred by Sri Lankan airways amounted to Rs 132,000 million. They were now trying to correct this wrong. Similarly they were prepared to probe bribery and corruption in the Ceylon Petroleum Corporation. It was certain opposition elements talking about privatisation who tried to sell prime land in the country to foreigners in various ways during the previous regime.
Mrs Maddem was accompanied by CIMA Executive Director Charles Tilley, Director Radley Stephen and CIMA Sri Lanka President Vipula Gunathilake.
(Daily News)
Latest Headlines in Sri Lanka