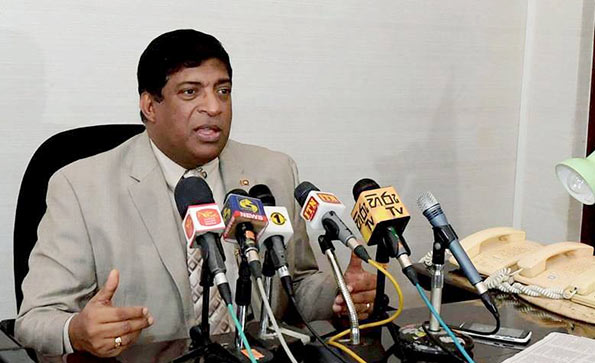 Finance Minister Ravi Karunanayake yesterday tipped his hat to foreigners assuring that the Government would provide a range of incentives including a five-year resident visa for a minimum investment of $ 300,000 and rights to lease land for those investing over $ 1.5 million.
These monies could be brought into the country through licensed commercial banks and could be invested in the capital market, banking industry or in treasury bills and bonds, he said.
"We want to attract funds through official channels and our job is to ensure protection for those investors. No questions will be asked. We don't want to have a witch-hunt," Karunanayake added.
The Minister said that through this innovative approach not only foreign investors, but also Sri Lankans who held money abroad are encouraged to bring them back to Sri Lanka, assuring that the Government would issue a visa immediately through an administrative order to the Immigration Department and that they would legislate over it later in the year.
"Use Sri Lanka as your investment destination," he said, adding that the investors could renew the visa as long as they wished to live in the country.
Karunanayake emphasised that the objective was to improve the reserves of the country through these direct deposits, reducing reliance on borrowings from international markets at higher interest rates.
With the introduction of these investment incentives he believes that the results will filter into other areas of the economy such as real estate, opening the space for more houses to be bought by foreigners and reducing the brain drain caused through migration.
Ravi…
However, he assured that by allowing foreigners to lease land and buy apartments, the Government would not allow real estate bubbles to form where assets would be in danger of being overpriced.
The Minister stressed that large foreign companies could bring in their worldwide earnings to Sri Lanka at zero tax, a policy that was also included in Budget 2017.
Finance Minister takes on MR over H'tota port
Reveals letters allegedly written by P.B. urging Chinese Govt. to reconsider terms of debt servicing
The Finance Minister yesterday renewed his offensive against former president Mahinda Rajapaksa, challenging him to a debate for the twelfth time and alleging the previous administration appealed to have repayment commitments on the Hambantota Port reviewed.
Challenging Rajapaksa to a debate on the national economy and financial policies for a twelfth time, he alleged that the port costs revealed to the press by Rajapaksa were false.
The Finance Minister insisted that Rajapaksa borrowed $ 1.3 billion to build the Hambantota Port with no revenue plans and with interest rates of loans ranging from 2%-7.5%.
While presenting documents to reporters, Karunanayake noted that former treasury secretary Dr. P.B. Jayasundara wrote letters appealing to the Chinese Government to reconsider their decisions on proposed debt servicing as the port was not making sufficient revenue to meet the repayment plan outlined between the two parties.
Quoting a letter written in August 2014 by Dr. Jayasundara to the Chinese Government, he said: "The Government has borrowed three loans amounting to $ 809 million. We are unable to have debt servicing going on the basis that is projected. Please ensure that we reconsider this decision."
Karunanayake said he perceived these acts by the former President as "malicious and misleading attempts" with an ulterior motive to jeopardise the economic development of the country.
Commenting on Chinese involvement in the Southern Development Project launched recently, Karunanayake stated: "The Chinese Government is looking at Chinese investment. They like to have access to low production costs and be easily connected to global supply chains."
However, the Minister said that the Government was open to investments from all countries including India, Korea, Japan, Malaysia and Singapore as well as the European Union. "Any country can invest in Hambantota. We have made it common," he stressed.
Responding to questions on the state of the Expressions of Interest (EOIs) received for SriLankan Airlines, he acknowledged that the Government may need to have a look at them in a "broader perspective".
When asked if the Government would have to call for fresh tenders, Karunanayake noted that it was too early to comment on it.
"EOIs have been called and the discussions are going on. The outcome will be mentioned before long," Karunanayake added.
Ravi K hails CB chief as a 'good soul'
Alleges cronies of former Governor at work, pledges to reveal names, assures stable rupee
Finance Minister Ravi Karunanayake yesterday sought to calm tensions with Central Bank Governor Dr. Indrajit Coomaraswamy, referring to him as a "good soul" who was being "misled by two cronies" of the former Governor.
"The Governor is a good soul, but he is being misled by two cronies who are running the wrong way," he said, adding that the two names connected to the former Governor Ajith Nivard Cabraal would be revealed in the next couple of days.
Despite the presence of what he termed as an "orchestrated process" within the Central Bank, the Minister assured he remained very confident of the economic system, which he stressed was evident in Sri Lanka regaining the GSP+ facility. He also insisted that the country was now financially and politically stable.
"We want to have sanity prevail. When the President, Prime Minister and Finance Minister say something, then that is the Government's strategy. We don't want to be hijacked or distorted by two or three of the former Governor's cronies. I want to give the fullest confidence that what we say is what we do," he stressed.
The Finance Minister also assured that the rupee would be stabilised soon, but not through artificial floating.
"My President, Prime Minister and the Cabinet have an opinion that we will ensure that the rupee is protected and also create the environment for people to bring their money to Sri Lanka without any fear. So artificial floating cannot be done," he noted.
(Source: DailyFT – By Charumini de Silva)