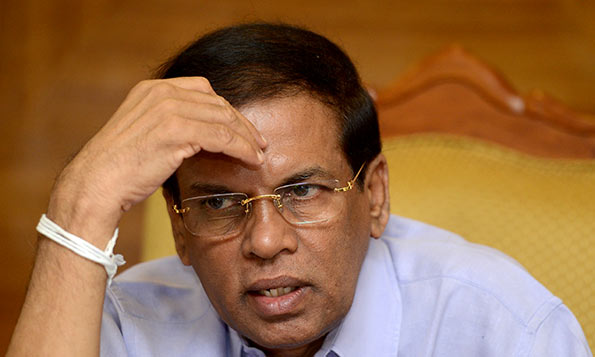 President Maithripala Sirisena , in a meeting last night, requested Sri Lanka Freedom Party( SLFP) MPs sitting in the Joint Opposition to refrain from forming any new political fronts and acting in a manner detrimental to the interests of the party.
The President called for this meeting with the SLFP members of the Joint Opposition ahead of the protest march they were planning from Kandy to Colombo under the guidance of former President Mahinda Rajapaksa.
President Sirisena , however, said he would not mind the Joint Opposition criticizing the government when and where necessary. The meeting took place at his official residence. All SLFP members, barring MPs Namal Rajapaksa and Chamal Rajapaksa, were present.
Referring to the protest march called 'Pada Yatra' , he said he would not oppose it. Yet, he stressed the need for SLFP members representing both the government and the opposition to in unity. He noted that the party would be compelled to take action otherwise.
The Joint Opposition members said party people at grassroots level were disappointed with the decision to forge ahead with the national unity government for five more years.
The President is reported to have said that it was done to bolster investor confidence.
(Daily Mirror – By Kelum Bandara)