Religious conflict: Special police unit won't succeed without govt. backing – Bathiudeen
Posted by Editor on April 28, 2014 - 7:53 am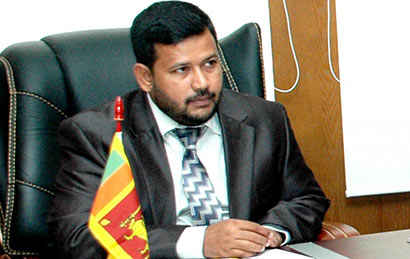 Industry and Commerce Minister Rishad Bathiudeen yesterday said that the country would have to pay a very heavy price for the failure on the part of the authorities concerned to rein in Bodu Bala Sena (BBS).
An irate Bathiudeen asserted that the police wouldn't find it easy to control the situation unless the government threw its full weight behind law enforcement authorities. The minister was responding to a presidential directive to set up a special police unit to tackle religious conflicts in the wake of BBS storming Bathiudeen's ministry at No 73/1, Galle Road, Colombo 3.
The President made the announcement last Thursday.
The Police headquarters said yesterday that the new unit would become operational today.
The Vanni District parliamentarian, who is also the leader of All Ceylon Makkal Congress (ACMC) accused the BBS of working overtime to justify some of the allegations propagated by Western powers targeting Sri Lanka. Had BBS leadership studied the US-led resolution passed at the recently concluded Geneva-based UNHRC session, it wouldn't have caused religious turmoil in the country.
The government should realise that Sri Lanka would come up for discussion again next September at the UNHRC.
ACMC leader said that the police, too, were obviously in a dilemma due to high handed actions of BBS members. As BBS members had humiliated the police on many occasions, setting up of a new police unit alone wouldn't be enough to restore confidence among the Muslim community as well as others at the receiving end of BBS harassment, the minister said.
Asked whether he would seek a meeting with President Rajapaksa to brief him on the situation, the minister said that the President was on record as having said that he would separately meet various parties to the conflict.The minister insisted that the government would have to take tangible action to prevent BBS from targeting not only the Muslim community but those taking a different view. Nothing could be as humiliating as Mahiyangana Pradeshiya Sabha member, Ven. Watareka Vijitha being forced to run into Pradeshiya Sabha building under police protection due to the intimidating presence of BBS members.
(The Island)
Latest Headlines in Sri Lanka