Remarkable increase of visitors to Jaffna in 2010
Posted by Editor on December 30, 2010 - 4:25 pm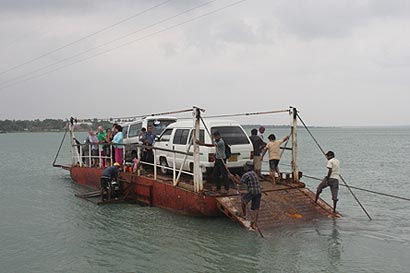 According to the statistics being maintained on the entry to the Jaffna peninsula across the Elephant Pass (EPS) gateway a recorded number of visitors from the south have arrived in Jaffna during 2010. By 28 December 2010 approximately 3 million of visitors entered via EPS gateway and pilgrims, Ministers and Parliamentarians, investors, vendors, diplomatic missions and government and private sector officials included into this number. With the commencement of December school vacation the number has remarkably increased. Normally the highest number of visitors go to Jaffna in school vacations and in this year it is nearly 200,000.
Daily income of Jaffna based business community, fishermen and farmers has increased with the arrival of travelers and a big demand could be seen especially for Palmyra products such as Palmyra- related handicraft, jaggery and traditional food. Apart from this Jaffna dwellers earn handsome income by renting out houses to outsiders for accommodation.
Government with coordination of Security Forces – Jaffna and Civil administrative authorities has launched many projects to develop the places of tourist interest. Commencement of reconstruction of the historical Jaffna Fort, completion of 21/2 km long Mullai-Karainagar causeway, improving of the Karainagar-Kayts ferry service and development of the road to picturesque beach of Casurina in Karainagar are among such development activities undertaken by the government.
The present peaceful environment prevailing in Jaffna invites investors, businessmen and pilgrims to the peninsula which directly has positive impact on trade, economy and education in Jaffna and also on the North-South harmony.
Source: Ministry of Defence
Latest Headlines in Sri Lanka