Report sought on soldiers who searched explosive packed LTTE truck
Posted by Editor on September 16, 2013 - 8:42 am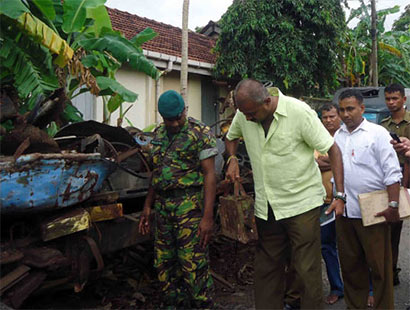 The Defence Ministry has called for a full report on the three soldiers who searched the lorry parked near the Kotahena police since 1996, after the detection of 120 kilos of TNT explosives secreted in its chassis last week.
During the search of the vehicle 17 years ago, with the help of the army, 75.5 kilos of TNT were detected.
The lorry had been parked close to the police station since February 1996.
A senior defence official said that a sergeant and two corporals had searched the truck some time back and declared that there was nothing suspicious.
Since the vehicle had been checked by the army, which declared that it didn't contain anything suspicious, police had not paid any attention to it, a police officer said.
What puzzles the police is how the three soldiers failed to detect the explosives.
The police, having obtained a court order, to auction the vehicle, attempted to move the badly rusted vehicle with a forklift last Thursday, when they found the remaining explosives.
Since 1996, nine officers in charge served at the Kotahena police, sources said.
(Courtesy: The Island)
Latest Headlines in Sri Lanka