Roshen Shanaka's brother pleads: 'Don't sell my brother's remains for political ends'
Posted by Editor on June 4, 2011 - 6:45 am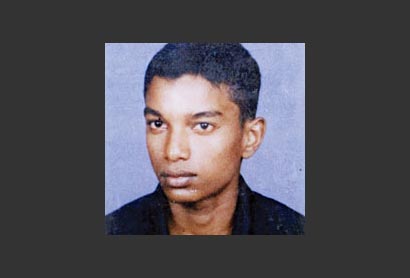 Roshen Shanaka's brother yesterday called on all political parties to refrain from "selling his brother's remains for opportunistic political needs."
"Don't sell my brother Roshen Shanaka's remains for opportunistic political needs", Madushan Rathnasekara, a student at the Medical Faculty told all political parties.
Roshen Shanaka died following gun shot injuries during a clash on Monday.
Rathnasekara said that one of his family members had died and no outside intervention was needed for the funeral.
"Our family does not belong to any political party and we do not expect any political motivation for the funeral. No protests or any unnecessary acts are needed," he said.
Shanaka joined the Free Trade Zone as a machine operator four months ago. He was caught up in the disturbance that erupted on Monday against the proposed private pension scheme. Shanaka who suffered gun shot injuries succumbed to the injuries at the Ragama Teaching Hospital. Meanwhile, Minuwangoda Magistrate K.K.A.V. Swarnadhipathi appealed to the victims's family that the funeral should be held today at 3.00 pm at the Roman Catholic cemetery.
The magistrate directed that the coffin should not be moved anywhere other than from Roshen's house to the cemetery after taking it to church. She said that except for a brother and Catholic priests, no one would be allowed to address the gathering. The magisterial order followed an appeal made by the victim's family.
Courtesy: Daily News
Latest Headlines in Sri Lanka