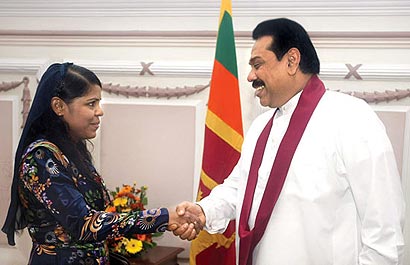 SAARC Secretary General Fathimath Dhiyana Saeed yesterday said that SAARC member countries should get together and extend their fullest support to Sri Lanka at this juncture.
She lauded President Mahinda Rajapaksa 's valuable contribution to the furtherance of SAARC during the past few years. She said the contribution made by Sri Lanka for the SAARC Cultural Centre establishment is commendable. Saeed made these observations when she met President Mahinda Rajapaksa at Temple Trees yesterday. Saeed is the first woman and Maldivian to hold the prestigious post.
President Rajapaksa had extensive discussions with Saeed over the future activities of the SAARC. The President was of the view that SAARC member countries should strive for development using their potential and capabilities. External Affairs Minister Prof G.L. Peiris and the senior officials of the External Affairs Ministry participated.
Courtesy: Daily News