Sajith unstoppable leader in the wings – Tissa
Posted by Editor on October 5, 2014 - 11:43 am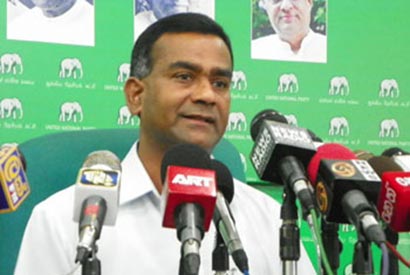 While noting that party should groom its second layer of leaders by the next Presidential Election, UNP General Secretary, Tissa Attanayake, stressed that none will be able to stop Sajith Premadasa being recognized as the next party leader.
Asked as to who would be the party leader if incumbent Ranil Wickremesinghe failed to win next Presidential Election, he said even though the right and powers to choose..
…the next leader is with the Working Committee and the general convention of the party one cannot stop Premadasa's image rising as the next UNP leader.
"What I believe is we are winning the next election. Irrespective whether we would win or not the second layer of leadership must be groomed by then. I am not saying it is only Premadasa who is qualified to the post. But since he is already appointed the deputy leader, none can stop people recognizing him as the next UNP leader. His image will be built in that way no matter how others would think," he added.
He also said leader will be decided and made by people because there are two types of leaders.
"One type is those who held posts but are not recognized by people as leaders and others are who live in the hearts of the people as leaders even though they are not given any posts. When the time arrives the Working Committee and the general convention will decide it. What I am saying is Sajith Premadasa has a good chance of being appointed," he added.
(Ceylon Today)
Latest Headlines in Sri Lanka