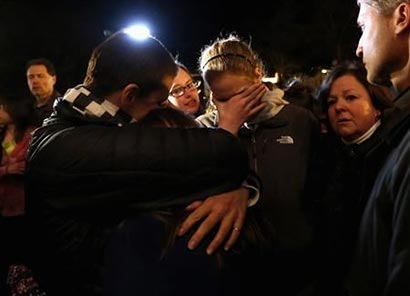 NEWTOWN, Connecticut (Reuters) – Residents of the small Connecticut community of Newtown were reeling on Saturday from one of the worst mass shootings in U.S. history, as police sought answers about what drove a 20-year-old gunman to slaughter 20 children at an elementary school.
The attacker, identified by law enforcement sources as Adam Lanza, opened fire on Friday morning at Sandy Hook Elementary School, which teaches children aged five to 10. He ultimately killed at least 26 people, before turning the gun on himself.
Police said another adult was found dead at a related crime scene in the town. Many media outlets reported it may have been the shooter's mother, Nancy Lanza.
State police said they hoped to have more information by Saturday morning, including confirmation of the victims' identities. More than 12 hours after the shootings, police began removing the bodies from the school and bringing in parents to make identifications, NBC News reported.
President Barack Obama urged Americans on Saturday to join in solidarity as they mourned the victims, saying the hearts of parents across the country were "heavy with hurt".
He called for "meaningful action to prevent more tragedies like this", but stopped short of specifically calling for tighter gun-control laws in his weekly radio and Internet speech.
The president wiped away tears as he told the nation in a television address on Friday: "Our hearts are broken."
The holiday season tragedy was the second shooting rampage in the United States this week and the latest in a series of mass killings this year.
It revived a debate about gun-control in a country with a flourishing firearms culture and a strong lobby which has discouraged most politicians from any major efforts to address the easy availability of handguns and rifles.
"JUST BRUTAL"
Newtown, an affluent town about 80 miles northeast of New York City, was mourning its dead in community vigils.
"We're just praying – just need to pray to God that this does not happen again, no matter where," Amelia Adams, 76, said on her way into St. Rose of Lima Catholic Church with her husband Kenneth, 81.
The church, a couple of miles from the site of the shooting, was packed inside and out on Friday night with a crowd estimated at more than 1,000 people.
"It was just, it was brutal. I can't think of a better word. It was just brutal to have to witness the pain today," Monsignor Robert Weiss said after the service.
Connecticut Governor Dannel Malloy told reporters late on Friday he never thought something would happen to equal the grief he and others felt after the September 11 attacks on New York and Washington in 2001.
"Evil visited this community today," Malloy said.
The chaos at Sandy Hook struck as children gathered in their classrooms for morning events. A state police spokesman said the shootings took place in two rooms. Witnesses reported hearing dozens of shots; some said as many as 100 rounds.
Former classmates of the shooter remembered him as someone who dressed more formally than other students, often wearing khaki pants, button-down shirts and at times, a pocket protector.
"(His mother) pushed him really hard to be smarter and work harder in school," said Tim Arnone, 20, who first met Lanza at Sandy Hook. He had attended Newtown High School.
PUSH FOR CONTROL
The death toll exceeded that of one of the most notorious U.S. school shootings, the 1999 rampage at Columbine High School in Littleton, Colorado, where two teenagers murdered 13 students and staff before killing themselves.
The New York Times reported Adam Lanza used a Sig Sauer and a Glock, both handguns, and said police also found at the scene a Bushmaster .223 M4 carbine rifle at the scene.
New York City Mayor Michael Bloomberg, founder of the advocacy group Mayors Against Illegal Guns, said it was "almost impossible to believe a mass shooting in a kindergarten class could happen.
"We need immediate action. We have heard all the rhetoric before. What we have not seen is leadership – not from the White House and not from Congress," Bloomberg said. "That must end today."
World leaders expressed horror as they offered condolences to the United States. Washington's arch-foe Tehran also offered its sympathies with Iran's Foreign Ministry spokesman describing the killings as "tragic".
Reuters