SEC creates history; Becomes best performing capital market in world: Political stability spurs investor confidence :
Posted by Editor on October 2, 2010 - 7:59 am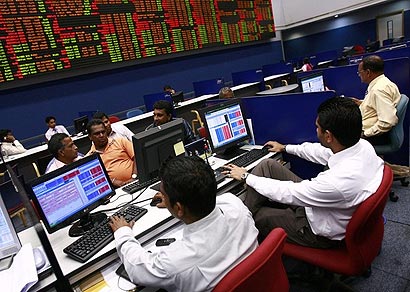 Daily News – By Charumini DE SILVA
The Colombo Stock Exchange (CSE) became the best performing capital market in the world recording a growth of 111.14 percent, while the All Share Price Index (ASPI) of the CSE crossed 7,000 milestone creating history yesterday, Colombo Stock Exchange Business Development Manager, Thushara Jayaratne said.
The CSE topped with 111.14 percent, followed by MSE Top 20 Index with 109.71 percent. DSE General Index was 56.48 percent becoming the third. The ASPI closed at 7,147.77 moving up by 150 points whilst the Milanka Price Index (MPI) recorded 7,829.05 up by 276.3 points.
The turnover for the day was Rs 6.01 billion. All indices of the capital market recorded their highest levels yesterday.
Speaking to the Daily News Securities and Exchange Commission (SEC) Chairperson, Indrani Sugathadasa said the result was a combined effort of all stakeholders of the stock market.
As the regulator SEC made good directives and guided the market to have a fair and transparent market.
"The credit should also go to President Mahinda Rajapaksa as he opened the door for foreign investers to invest in our country and the political stability of the country provided immense confidence to all investors", she said.
Logan Rockefeller Global Lanka Asset Management (Pvt) Ltd., Managing Director, Channa de Silva said this signifies that all fund managers across the world are looking at the Bloomberg rankings. Sri Lanka gaining the top slot will interest and will influence them to invest in the CSE.
"No other country in the world currently enjoys the unparallel growth potential that the country offers after the 30-year war. All economic indicators demonstrate beyond any doubt of rapid impressive economic conditions in Sri Lanka, which will be a significant factor to attract investments", he said.
The Price Earning Ratio (PER) has increased up to 28 times whilst the Price to Book Ratio (PBR) was over three times. However, at least another two to three large companies which are doing well in construction, leisure and power has absolute priority to up the liquidity and provide the ever increasing local retail market.
The Government development efforts in roads, power, sea, air ports and other hardcore infrastructure elements are critical to attract investors. Therefore, their commitment to the country will rapidly increase with the CSE becoming the best in the world, de Silva said.
Latest Headlines in Sri Lanka