War hero now prisoner No: 0/22032
Posted by Editor on October 3, 2010 - 12:37 pm

Courtesy: Sunday Times – Pix: Getty Images

* Fonseka sleeps on ground and stands in queue for meals
* Ranil faces new issues, including Ameratunga's embarrassing trip to US
It was close upon midnight Thursday when former Army Commander Sarath Fonseka was escorted into an isolated cell in Ward "S" at the high security Welikada Prison. Fonseka, now Prisoner No: 0/22032, changed from a national dress into an ill-fitting jumper, the regular attire for convicts and slept the night on a mat on the cement floor. He had only one pillow.
He was woken up at 5 a.m on Friday, like all other inmates in the block. His cell had a toilet but he complained the flush was not working. He had to walk to a water tank outside the ward. There, he had to use a bucket to draw water to wash or bathe. Later, with a metal jug on one hand and a metal plate on the other, he stood in the queue with other convicts to be served breakfast. It was rice and Pol Sambol. As a prelude to Prison officials assigning him his daily chores, a doctor examined him. Tailors at the prison also took his correct measurements to provide him more jumpers to suit his size.
For lunch on Friday, he joined the queue again with the metal cup and plate. Lunch was rice, a watery cucumber curry, dhal, a vegetable Mellun (dry curry or condiment made of minced leaves or fruit and scraped coconut) with a small piece of fish and gravy. Immediately thereafter, he was back in his cell until 2 p.m. After a short break outside with more chores, he returned to the cell at 7 p.m. The lights go out at that time and he would have to sleep in the darkness until dawn next morning.
That will now be the daily routine for Fonseka, the former Commander of the Army, who led troops for the military defeat of Tiger guerrillas in May last year. Promoted to become the only serving General in the Army's 61 year history, he earned many plaudits from UPFA leaders. He was dubbed the "best Army Commander in the world." Public ceremonies were held in temples and schools countrywide to felicitate him. There is little or no doubt, that Fonseka's rich military acumen contributed in no small measure to the victory. There is also little or no doubt that Fonseka's ruthlessness; his cantankerous behaviour coupled together with unbridled arrogance won him a larger share of enemies both within and outside the military establishment. He also sent shudders down media personnel whom he disliked.
Exactly two weeks after he was stripped of his rank, his titles, his medals of decoration and his pension forfeited, Fonseka was sentenced to two and half years of rigorous imprisonment. The first punishment came on September 17 after a General Court Martial (GCM) found him guilty of "dabbling in politics." As exclusively revealed in our political commentary last week, a second GCM recommended the sentence of two and half year's rigorous imprisonment after he was found guilty of "disgraceful conduct" over military procurements. Details connected with this inquiry were revealed last week.
Fonseka was charged on four counts on the grounds that he was "in the knowledge of the fact that your son-in-law Danuna Tillekeratne had an interest or concern with M/S Hicorp (Pvt) Ltd." This relationship, the charges said, if disclosed, "would have required you to dissociate yourself from the tender process" in accordance with Procurement Guidelines of 2006. The charge said Fonseka "concealed the said relationship" until his retirement and thus committed a "fraudulent act."
However, during the GCM proceedings, the Registrar of Companies, P. D. T. Panditha Sundara, a witness called by the defence, said Danuna Tillekeratne was not a Director of Hicorp (Pvt). Ltd. He said his name did not appear in the official documents in his Department.
On Wednesday, soon after his return from New York, President Mahinda Rajapaksa signed a proclamation confirming the recommendations of the second GCM. A source at the Presidential Secretariat said that was by placing his official seal in English and his signature in Sinhala on a 12-page document. This document is the appropriate Army form used by the Convening Officer of a court martial. It is dated September 29, 2010. In this instance, the Convening Officer was the Commander of the Army, Lt. Gen. Jagath Jayasuriya.
The fact that he was sentenced to two and half years rigorous imprisonment was conveyed to Fonseka in an official document. It was delivered to him at Navy Headquarters by Lt. Col Clifford Soysa, Commanding Officer of the first battalion of the Sri Lanka Corps Military Police (SLCMP). Later a prison official visited him to inform him that he should be ready to move to a cell.
The leak of the signing of the proclamation via SMS news alerts by mobile phone operators on Thursday morning was to thwart some plans made by the authorities. They had planned to shift Fonseka from the "married quarters" he occupied within Navy Headquarters to the Welikada Prison in the morning. It was only thereafter an official announcement was to be made. After the news broke, media personnel armed with cameras had taken up position outside the prisons. Reports that the JVP was planning to obstruct the convoy carrying Fonseka led to security in the City being tightened. Armed soldiers were placed outside the prisons. Plans were called off until nighttime.
Yet, the media braved the intermittent showers to wait outside the prisons. So did the former General's wife, Anoma. It was only hours earlier, she had visited Navy Headquarters to deliver her husband what turned out to be his last home made meal. It was past 10.30 p.m. Police officers moved into to form a cordon outside the main entrance to the prisons at Baseline Road. A prisons bus lay parked across the road. A few minutes later, around forty men in civvies, said to be Army soldiers assigned for security duties whilst Fonseka was in custody bolstered the police strength.
At this point, a deception plan went into effect. Whilst all attention was on the main entrance, a van with tinted windows drove into the prisons through another gate. It was only when the deployment outside the main entrance was dismissed did those waiting for Fonseka to turn up realise he had already gone in. Ms Fonseka made a request to meet her husband but was advised to come over the next morning.
On Friday afternoon, Ms Fonseka visited her husband in jail. When she came out, she held his national dress that was returned to her by prisons staff and declared to reporters "this is what he (Fonseka) has received for defeating terrorism." If the first GCM had literally removed Fonseka's uniform, the second removed his national dress. Earlier, on Thursday afternoon, Ms Fonseka addressed a hurriedly summoned news conference at the Solis Hall in Kotte. She said: "The jail sentence is the gift my husband has got for ending the 30-year-old war and giving the opportunity to the public to move about freely. This verdict is a disgrace for the armed forces. I am appealing to them not to accept this verdict. The President has written this verdict and it has been given according to his wishes.
"The members of the court martial were puppets dressed in military uniform. That too is a disgrace to the armed forces. We will not be appealing to the President for pardon on this sentence, but we will follow the legal procedures. Even the most venerable Maha Nayake Theras had appealed to the President not to sentence him. That plea too has not been accepted by the President."
However, earlier Thursday, government spokesperson and Media Minister, Keheliya Rambukwella, told a news conference, "the GCM judgement has been given in accordance with the country's existing laws." He said Fonseka had imposed the same law (conduct of Courts Martial) on 4,500 soldiers of the Sri Lanka Army. He said Fonseka would lose his seat in Parliament in accordance with provisions of the Constitution. However, he did not elaborate. His remarks have given rise to speculation that President Rajapaksa, who is "Confirming Authority" under military law, would intimate to Speaker Chamal Rajapaksa, the GCM verdict and the sentence imposed. Such a move may stymie efforts now being made by Fonseka's lawyers to challenge the GCM findings and the subsequent sentence in courts.
In the event of the Speaker ruling that Fonseka is no longer an MP, the seat will go to the next Democratic National Alliance (DNA) candidate, Lakshman Nipunaratchchi. Others in the line up are Jayantha Perera, Sanjiv Kandanaratchchi, Ajit Cooray, Sunil Watagala and more than 18 others from DNA. It is only if all these candidates decline in unison from being named could the DNA appoint a successor. Otherwise, a slot in Parliament for Ms Fonseka, to replace her husband, would be possible only with the resignation of their other DNA parliamentarian, Tiran Alles.
JVP sources say though their party is the main constituent partner in the alliance, they would not forfeit their only seat in the National List which is held by Anura Kumara Dissanayake. "They (Fonseka and Alles) formed the new Democratic National Front as a political party and wanted to remain within DNA. If Fonseka is to lose his seat, it is their party's slot that has to be filled," said a senior JVPer who did not wish to be named. He added "that is the only way they can ensure Ms Fonseka is brought to Parliament to prove that her husband has not been politically destroyed. She can speak for him there."
This has gained added significance since Ms. Fonseka will now be allowed to see her husband only once in a month. However, MPs are granted the privilege of making daily visits until 6 p.m. President Mahinda Rajapaksa met with chief monks of the Polonnaruwa district at the Sudu Araliya Hotel in Polonnaruwa to discuss the problems faced by the temples.
One of the monks, Ven Habarana Rathana Dhamma, the chief incumbent of Shri Priyadharshanaramaya in Polonnaruwa told Rajapaksa they had no objections over the sentence passed on the former Army Commander Sarth Fonseka. "The decision is correct. If Fonseka was heading the country we know what would have happened to the Rajapaksas", he said.
Rajapaksa promptly responded: 'I am not a person who engages in revengeful politics. Whenever revengeful things were told against me on political stages during the election campaign, I have never spoken in a revengeful manner. I have only acted in the capacity of the head of the armed forces in maintaining discipline of the army. These are legal acts."
Rajapaksa added: "Constitutionally there is a manner how pardon could be given. If there is plea for pardon I am ready to consider it." On September 17, the three-member GCM headed by Major General Milinda Peiris unanimously delivered a guilty verdict. On that day, the Military Secretary Major General B.C.K. Peiris Goonetilleke was called upon to produce Fonseka's personal file. Then the following dialogue took place. This is how the official record says it:
"Judge Advocate Rear Admiral Shavindra Fernando: Mr (Rienzie) Aresacularatne , do you have….. No questions?
"Defence Counsel Aresacularatne: No, Your honour.
"Judge Advocate Rear Admiral Shavindra Fernando: Mr. Aresacularatne, do you wish to make any submissions in mitigation of sentence?
"Defence Counsel Aresacularatne: The accused wants to say something, Your Honour.
"Judge Advocate Fernando: The accused may stand and say what he wishes to say.
"Accused Sarath Fonseka: Today I need…… I will say, I said in the last so called Court Martial, I don't agree with the verdict. I don't think justice was done and justice was never done here. It was disgusting; the whole process of justice was never done here."
After making those remarks in English, Fonseka switched to Sinhala to make a lengthy statement. He said there was no fair play and was bitterly critical of some officials. He said he was being accused of "disgraceful conduct" when some senior officers of the Army had appeared on state run television during the presidential election campaign and openly engaged in politics. Their conduct were disgraceful, he said.
He told the GCM that 5200 soldiers were killed during Eelam War IV and 27,000 injured. He said 23,000 Tiger guerrillas were killed and a further 11,000 were taken into custody. The figures in respect of the guerrillas contradicted what Fonseka had declared in many media interviews during the last stages of Eelam War IV. He said their numbers did not exceed 4,000. Now, the total of those dead and injured, according to his submission to the GCM is a staggering 34,000. That is five times the strength of the Sri Lanka Army when the separatist insurgency began.
Fonseka said, "I would be frightened to go to jail after doing wrong. However, without doing wrong, I am not frightened to be in jail. All should know that without fear I would even go to 100 jails.
I am willing to spend a long time in jail. My commitment to kill Prabhakaran and destroy the LTTE helped me achieve it. The same way, though I am in jail, I will fight against injustice. I will fight and I will win."
On Friday, Opposition UNP Leader Ranil Wickremesinghe telephoned Anoma Fonseka. He was to tell her that the UNP was launching a religious campaign in Dompe beginning today. Participants are to chant Seth Kavi (benedictory verses) to invoke the blessings of gods to release Fonseka.
She agreed to take part in the event. UNP parliamentarians Jayalath Jayawardena and Akila Viraj Kariyawasam have flown to Italy to take part in a protest by Sri Lankans there seeking the release of Fonseka. The DNA's Arjuna Ranatunga has also left for the same event. It was Ms Fonseka who was to take part earlier. Italy has a large Sinhala expatriate lobby. Both the UNP and the JVP have sought to fight their campaign largely overseas.
Wickremesinghe told the Sunday Times, "locking up a man without a fair trial is a gross travesty of justice". He said his party would continue to agitate both in and outside Parliament for Fonseka's release. The JVP appears to have planned its own campaign at district level by holding meetings. A campaign to collect signatures to be sent to President Rajapaksa seeking Fonseka's release and a poster campaign are among other measures planned by the party.
For Wickremesinghe, there were several new issues to face. John Ameratunga (UNP- Gampaha District) met him after his return from a trip to Washington D.C. to meet his daughter. He confessed to Wickremesinghe that he and his wife had flown to the US capital on business class air tickets provided by the Government. He had explained that he had asked his daughter to come over to Washington D.C. on a particular date and hence the visit could not be postponed. On Wickremesinghe's advice, Ameratunga agreed to refund the full cost of the tickets to the Government.
Yet, the issue was gross embarrassment to both Ameratunga and the UNP. Here was the Chief Opposition Whip, tasked to maintain discipline in his own party, taking a free ticket from the Government to travel to the United States. That is in addition, to being the first signatory to a vote of no-confidence against External Affairs Minister G.L. Peiris. It will be debated in Parliament on Thursday October 7.
The Sunday Times learnt officials of the Protocol Division of the External Affairs Ministry had helped the Ameratunga couple for their travel to US. It was only last week; Ameratunga disclosed in a letter to the Sunday Times that he had received an invitation from the Government to serve in the UN delegation. He said he accepted it and later informed Wickremesinghe. The latter had advised him not to go. Now, it transpires that instead he has accepted fully-paid business class air tickets from the Government for a trip to Washington D.C.
Another move by Wickremesinghe this week was to initiate disciplinary action against Dayasiri Jayasekera (UNP-Kurunegala District). He directed party secretary Tissa Attanayake to write to Jayaskera calling for his explanation over two issues. Our front-page news report today gives the details.
On Friday, a senior UNPer walked into Wickremesinghe's office room at Cambridge Terrace and asked whether "the party leadership crisis or the deputy leadership crisis is now dead." He replied, "It is already embalmed." The UNP leader was alluding to moves by Dayasiri Jayasekera to meet him with proposals to resolve the ongoing crisis within the party.
Wickremesinghe has taken up the position that no meeting with Kabir Hashim, the interlocutor, was necessary. He has said that the party's Working Committee has accepted the recommendations of the Reforms Committee. They would be incorporated in a new UNP Constitution that is due to be approved by the annual sessions in late November or December, this year. That is all there is to it, said Wickremesinghe.
Though the Fonseka issue has not generated greater public interest so far, it is bound to obscure the internecine problems within the UNP. Yet, the in-fighting would continue to simmer until the party adopts a new constitution. That will be the dividing line between the winners and the losers.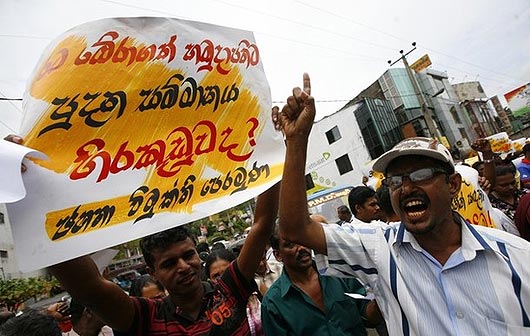 Latest Headlines in Sri Lanka