SF: 'Ranil asked for my support at presidential poll'
Posted by Editor on October 9, 2014 - 8:09 am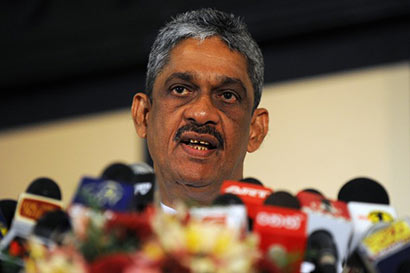 Leader of the Democratic Party, Gen. Sarath Fonseka yesterday said his party had not decided yet to go it alone at the Presidential election scheduled to be held early next year or support another opposition candidate. He revealed UNP leader Ranil Wickremesinghe had held discussions with him and sought his party's support at the next presidential election.
Addressing a news conference at the Democratic Party Headquarters at Kotte, Fonseka said that UNP Deputy leader Sajith Premadasa was not a suitable candidate to run for president.
"If at all there is a common candidate it has to be from one of the three main opposition parties and the candidate has to be someone who has an appeal to the masses," the former army commander said.
Asked for comment on a Bodu Bala Sena (BBS) statement that if it contested the next the Presidential election as a political party it could obtain over five million votes, Gen. Fonseka said if that was the case the BBS had to contest the election without the backing of any other party. He asked the media not to be fooled as the BBS was controlled by the Rajapaksas and its CEO Dilantha
Withanage was close to President Mahinda Rajapaksa and his brother Gotabhaya Rajapaksa.
Lashing out at the government, the DP leader said the ruling party was run by thugs and hooligans and the best t example was the recent attack on Sri Lanka's High Commissioner to the UK Dr. Chris Nonis in New York by Sajin de Vass Gunawardena, the monitoring MP of the External Affairs Ministry and a close confidant of President Rajapaksa.
Prof. G. L.Peiris was the External Affairs Minister he was in the shade as the Ministry was run by Sajin de Vass Gunawardena, the DP leader claimed.
Gen. Fonseka said that all right-thinking political parties should rise against the corrupt UPFA government sponsoring thugs, murderers and drug dealers and they had a cohesive plan to defeat the incumbent President who was fast losing his popularity.
The DP leader appealed to the masses not to be deceived by relief to be offered through the next budget.
Gen. Fonseka said teh government's corruption and wasteful expenditure were so high that the cost of high living had gone through the roof with people reduced to penury.
(Courtesy: The Island)
Latest Headlines in Sri Lanka