Sharp drop in prices of rice and vegetables: Adequate stocks of essential food items for festive season
Posted by Editor on April 10, 2011 - 8:48 am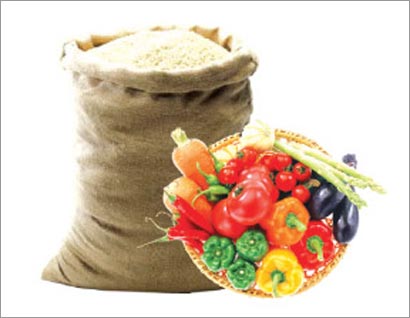 Adequate stocks of essential food items are freely available in the country for the festive season.
A sharp drop in the prices of rice and vegetables was also reported due to the increased supplies sent to Dedicated Economic Centres (DECs) and the Colombo market from agricultural districts, said Cooperatives and Internal Trade Secretary Sunil Sirisena.
All essential items including sugar, onions, dhal, potatoes, dried chillies and dried fish were imported by private and public sector organisations on the instructions of the Food Security Council chaired by President Mahinda Rajapaksa, he said.
The Consumer Affairs Authority has been instructed to nab errant traders who violate the Price Control Act, the Secretary said.
Chicken and eggs are also freely available in the market due to the action taken by Cooperatives and Trade Minister Johnston Fernando. The wholesale and retail prices of chicken had dropped to Rs. 300-Rs. 325. Samba and other varieties of rice are available in the market even cheaper than the controlled prices, the Secretary said.
Lanka Sathosa Chairman Nalin Fernando said that uninterrupted supplies are being made round the clock to 'Lanka Sathosa' branches to meet the increased customer demand at Lanka Sathosa supermarkets during the festive season.
"The Lanka Sathosa supermarket chain which has 250 branches islandwide is the biggest supermarket in the island. Our objective is to provide high quality essential food and other consumer items at reasonable prices", he said.
Comparatively, the prices of rice, sugar, dried fish, dried chillies, dhal, potatoes and sprats at Lak Sathosa outlets are the lowest in the market.
"We maintain the same price for a product at each and every Lanka Sathosa branch in the metropolis and the outstations", he said.
The fish, chicken and vegetable counters opened recently at Lanka Sathosa outlets are extremely popular.
Fresh vegetables are transported to Lanka Sathosa supermarkets in Colombo, Kalutara and Gampaha daily for the convenience of customers and to control vegetable prices in the open market, he said.
Lanka Sathosa supermarkets will be kept open on Wednesday despite it being a government holiday for the convenience of customers, he said.
Courtesy: Sunday Observer
Latest Headlines in Sri Lanka