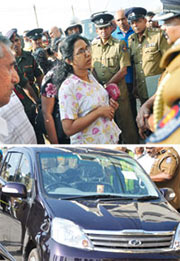 A manager of a shipping company was found with his throat slit, inside his car, an Elite hatchback, on the Marine Drive around noon yesterday.
Senior Superintendent of Police Colombo South, Premalal Ranagala, who launched an immediate investigation, said they had ample evidence to apprehend the killer.
The victim was identified by a relative as Ranjith Costa (47) of Kirilapone and an employee of Asian Shipping Company of Kollupitiya. The victim's wife, who rushed to the scene with a relative, spoke to the police at the scene. Subsequently, her statement was recorded.
She told the police that her husband had left home early morning saying that he had to conduct a lecture.SSP Ranagala said all that they needed to find out was where the lecture was to be held.
The vehicle, WP KU 5368, was found with the victim slumped backward in the driving seat and its parking lights on.
Answering a question posed by SSP Ranagala, the victim's wife said she did not know whether her husband had any enemies and when he left home he did not carry any significant amount of money. The car, the husband was using, had been purchased only a few months back.
Courtesy: The Island