Shooting rampage in California leaves 14 dead, 17 wounded
Posted by Editor on December 3, 2015 - 6:28 am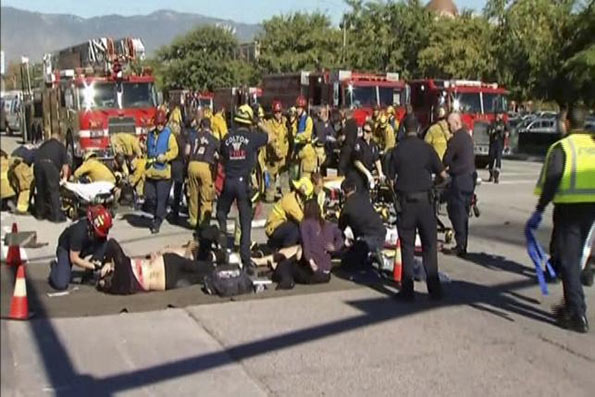 Gunmen opened fire on a holiday party on Wednesday at a social services agency in San Bernardino, California, killing 14 people and wounding 17 others before fleeing, authorities said.
As an intense manhunt for up to three suspects ensued, San Bernardino police reported one "suspect down" in an exchange of gunfire with officers but did not immediately confirm whether the individual was connected to the shooting.
The shooting rampage at the Inland Regional Center about 60 miles (100 km) east of Los Angeles marked the deadliest U.S. gun violence since the massacre at Sandy Hook Elementary School in Newtown, Connecticut, in December 2012, in which 27 people, including the gunman, were killed.
San Bernardino Police Chief Jarrod Burguan said in a televised news briefing three hours after Wednesday's shooting that the suspects were believed to have made their getaway in a dark-colored sport utility vehicle.
A vehicle matching that description turned up at the shootout with police several hours later, city police spokeswoman Sergeant Vicki Cervantes. She said the number of wounded rose to 17.
With suspects at large, authorities ordered a security "lockdown" of all local schools, as well as city and county buildings, and area hospitals were placed on alert, Burguan said.
Burguan said he knew of no possible motive behind the attack, which unfolded at about 11 a.m.
"We have no information at this point that this is terrorist-related, in the traditional sense that people may be thinking," he added. "Obviously, at minimum, we have a domestic-type terrorist-type situation that occurred here."
He said the suspects were armed with rifles.
The shooting unfolded on the campus of the Inland Regional Center, one of 21 facilities set up by the state and run under contract by non-profit organizations to serve people with developmental disabilities, said Nancy Lungren, spokeswoman for the California Department of Developmental Services.
Lavinia Johnson, executive director of the facility, told CNN the suspects opened fire inside a conference building in the complex where a holiday party was being held for county health department personnel.
The conference building sits adjacent to the two larger three-story buildings that house most of the agency's offices at the complex, Johnson said. Asked whether that meant that the Inland Regional Center staff and clients were safe, she said she understood they were being evacuated.
STRING OF SHOOTINGS
So far in 2015, there have been more than 350 shootings in which four or more people died, according to the crowd-sourced website shootingtracker.com, which keeps a running tally of mass shootings.
The shooting in California comes less than a week after a gunman killed three people and wounded nine in a shooting rampage at a Planned Parenthood clinic in Colorado Springs, Colorado. In October, a gunman killed nine people at a college in Oregon, and in June, a white gunman killed nine black churchgoers in South Carolina.
Gun control advocates, including Democratic President Barack Obama, say easy access to firearms is a major factor in the shooting epidemic, while the National Rifle Association and other pro-gun advocates say the Second Amendment of the U.S. Constitution guarantees Americans the right to bear arms.
(Reuters)
Latest Headlines in Sri Lanka