Shops gutted in Hatton inferno
Posted by Editor on April 7, 2011 - 5:55 am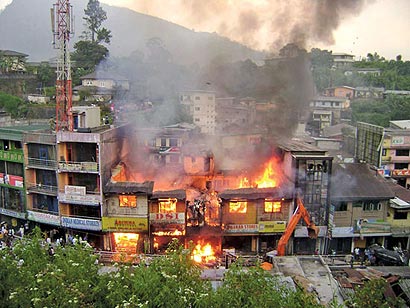 A number of shops in Hatton town were reduced to ashes when a fire erupted in a shop around 5.30 pm yesterday. According to Hatton Police sources, fire that erupted at a shop had blazed out of control, engulfing a number of shops in Main Street. The Police with the assistance of people in the area made great efforts to douse the fire without success.
Police said that fire engines of Nuwara Eliya Municipal Council were brought and the raging fires were doused at around 7 pm yesterday.
Livestock Industry Minister and CWC leader Armugam Thondaman also rushed to the scene and inspected the damage caused by fire.
A Hatton-Dick Oya Urban Council official told the Daily News that several unauthorized structures were removed using backhoes to prevent the fire from spreading to other shops, as a precautionary measure.
Police said that the fire caused extensive damage to a number of shops as it blazed out of control due to unauthorized structures standing in between shops.
Courtesy: Daily News
Latest Headlines in Sri Lanka