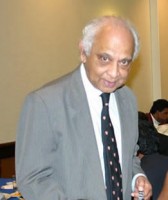 The Tiger Terrorist spokesman in Australia Dr. Brian Senewiratne has been deported to Australia by the Singapore government.
The 81-year-old Australian doctor has arrived in Singapore planning to travel to Malaysia and Indonesia to speak at forums organized by the tiger terrorist activists in those countries.
Reports said that he was scheduled to travel from Singapore by road to Johor Bahru in Malaysia to deliver two talks about the political situation in Sri Lanka, and the factors influencing Sri Lankans to seek asylum.  Tamil Tiger Terrorists have used this doctor's Sinhalese birth identity for many of their propaganda activities and he is one of the highly paid tiger terrorist propaganda groups.
He is also one of the nine Senators appointed by the pro-LTTE group Transnational Government of Tamil Eelam (TGTE) in its so called "Senate".
Dr Senewiratne was born in Sri Lanka but has not visited the country since 1984 and has been an Australian citizen since 1976.
Reports from Singapore said that after landing in Singapore Dr Senewiratne was detained in an interview room at Changi airport for four hours, and he was then escorted by an armed guard to a flight which returned him to Australia.
When tiger terrorism was in full bloom in Sri Lanka this Sri Lankan born Australian has visited  many countries to seek support for the terrorist cause and had addressed many Pongu Tamil functions held in overseas including the one held in Toronto in July, 2008.
He has also written the preface of the book titled 'War Criminal' (Por Kutravali), published by Chennai-based Manitham Publishers, which reproduced the whole UN Panel report on Sri Lanka in Tamil. (niz)